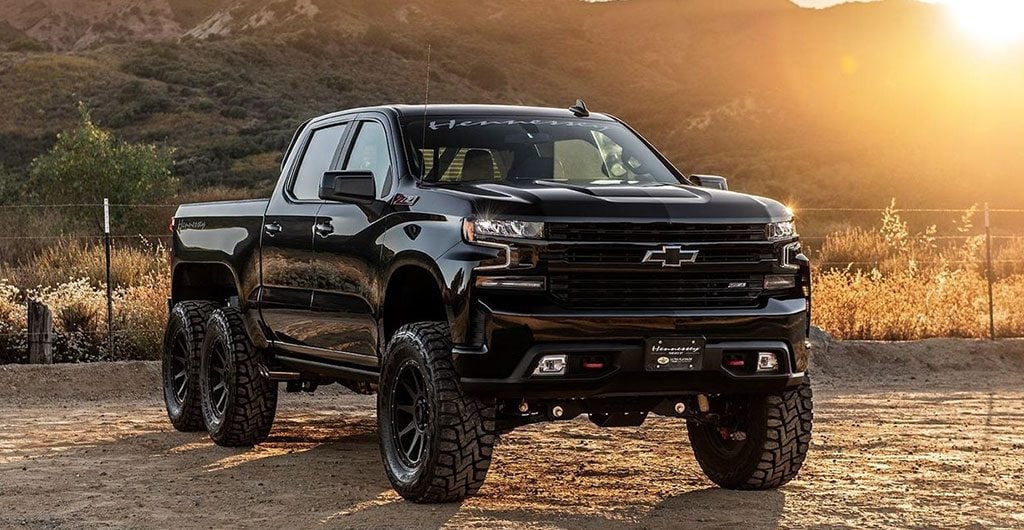 Have you ever thought to yourself, 'Yes my truck is nice but you know what it needs? An extra axle!' then have we got the vehicle for you. The aptly-named Hennessey Goliath 6×6 pickup was first announced last year, and is based on the 2019/2020 Chevrolet Silverado. This really takes tune-ups and modifications to a whole other level, even over the likes of the ABT VW Amarok pickup truck.
The Goliath 6×6 takes the already highly capable Chevy 4×4 and brings its off-roading prowess to a new level. Compared to the standard Silverado, the Goliath 6×6 not only gains an extra axle but also an extra 8 inches more ground clearance. It also has a new suspension system, custom bumpers, rollbar upgrade, a giant custom 6×6 load bed all rolling on 20-inch wheels wrapped in giant 37-inch off-road tyres.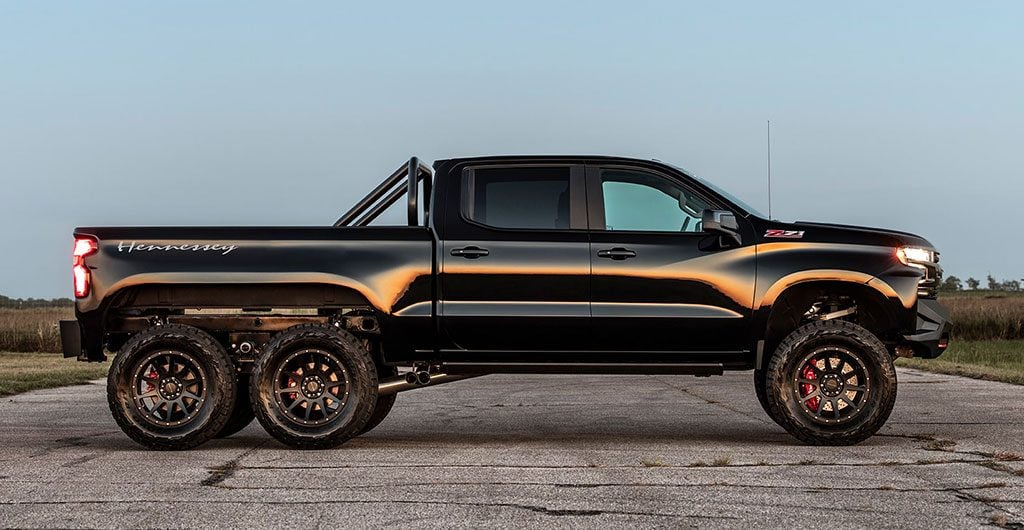 It's not just exterior that's been upgraded though as under the bonnet the power has been increased to 450 horsepower via a cold air intake and stainless-steel exhaust. Hennessey hasn't said how this upgrade affects the Silverado's performance. Hennessey are offering a 3 year/36,000 mile warranty which is always nice, especially when you know the Goliath 6×6 will cost $375,000.
Production of the Hennessey Goliath 6×6 Pickup Truck is limited to just 24 units and the six-wheel pickup truck is available for export to international markets, meaning all orders will have likely been filled by the time you have read this post.
This isn't the first time Hennessy have created a six wheeled monster either as 2 years ago they released their VelociRaptor 6X6 truck, a 6 wheeled 600 horsepower Ford F150 Raptor. We think both these vehicles are crazy feats of engineering and we'd love to be able to get our hands on one, it's just a shame they cost more than most homes…