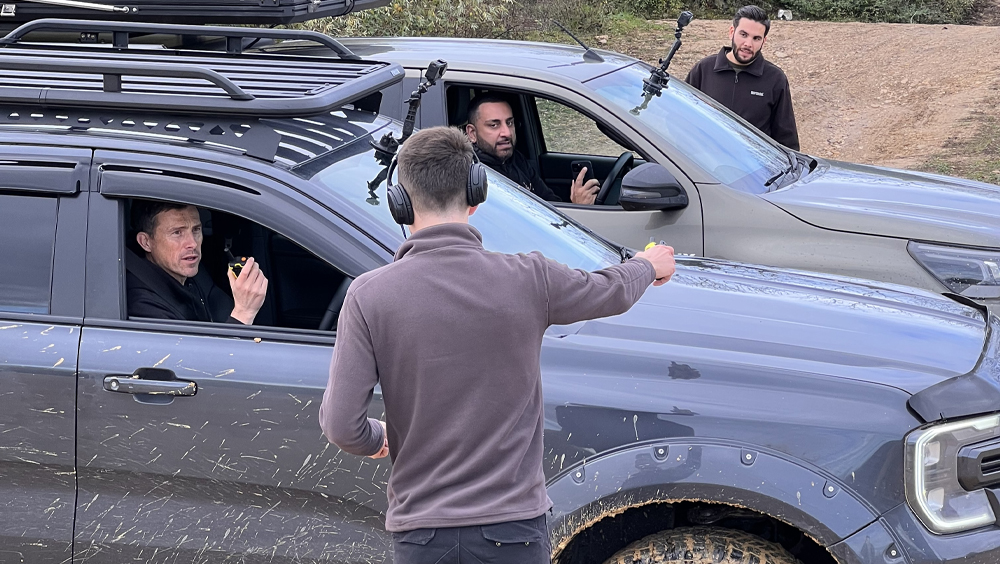 We headed off before the crack of dawn, heading south down the A1 from 4X4AT HQ in our brand-spanking-new Ford Ranger Wildtrak – one of the first in the UK – to let the team from carwow get their hands on it!
It was a lovely autumn day, fortunately, as the days beforehand had seen deluge after deluge. The production team from carwow included presenter Mat Watson along with guest presenter and driver, Yianni 'no fear' Charalambous (Yiannimize), who we met at their top-secret off-road filming location in the East Midlands, just off the A47, near Duddington, for a day playing in the mud.
We arrived in our accessorised next-generation Ford Ranger Wildtrak, followed shortly afterwards by members of the carwow crew who made us feel very welcome, as well as Anthony Smith from Timeless Overland, who brought along his Hilux to compete in a series of off-road challenges.
We handed our vehicles over and the filming prep started – GoPros and cameras fitted inside and out, drones charged and at the ready – professionally and impressively piloted all day by Director Jack, we must add.
The first challenge was the hill climb – a very very wet and very muddy contest after all the recent rain.
After that was a challenge to see which could go slowest back down the hill… to test the Ford Ranger's hill descent control.
Then a timed race around a tree – a tight course, to test the turning circle and space needed to manoeuvre the new Ford Ranger.
This was followed by some extreme off-road terrain challenges, over ruts and steep camber angles, to test both vehicle ground clearance and suspension. Some superb driving by first-time off-roader Yianni and some rather indifferent and 'certainly could have done better' driving from Mat 😂 – by his own admission we must add – as you'll see in carwow's own video.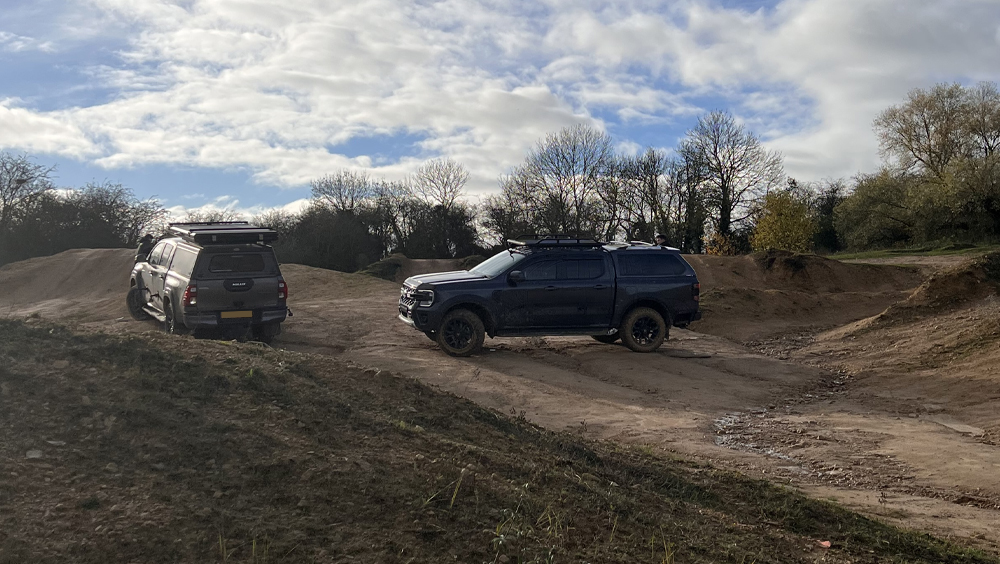 The final challenge was driving up a very steep hill on a rough, loose surface of rocks and boulders. An excellent test of the Ranger's off-road prowess.
The result of this enjoyable to watch contest was a… draw, with Graham (the carwow off-road expert) ultimately deciding the Hilux won! – mainly because he doesn't like (or understand) large touch screens and new tech, eh Graham? 🤣
You can make your own mind up when you watch the video on the carwow YouTube channel.
A big thanks to all the carwow team, including James, Jack, Darren, Nick, Taylor and Iain; not forgetting Yianni, Mat Watson and Anthony from Timeless Overland 4×4 Tours for what was a top day.
After watching Mat, Yianni and Taylor then attempt similar challenges in a Cayenne, X5 and Range Rover respectively, we won't spoil that video's result 😊, it was then time to head north and home…
On arrival, we thought we had better wash off some of the mud!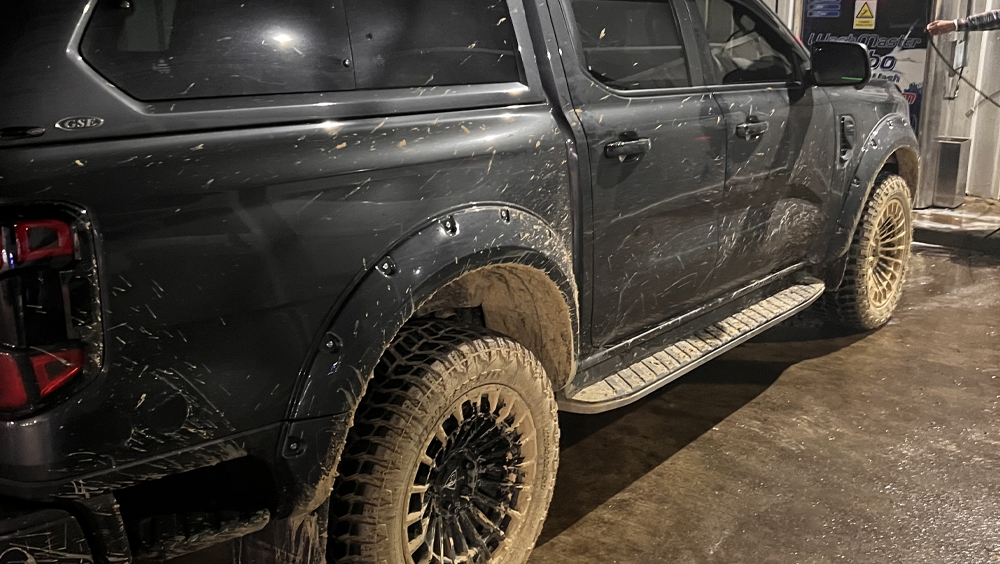 Many tokens later, not perfect but better…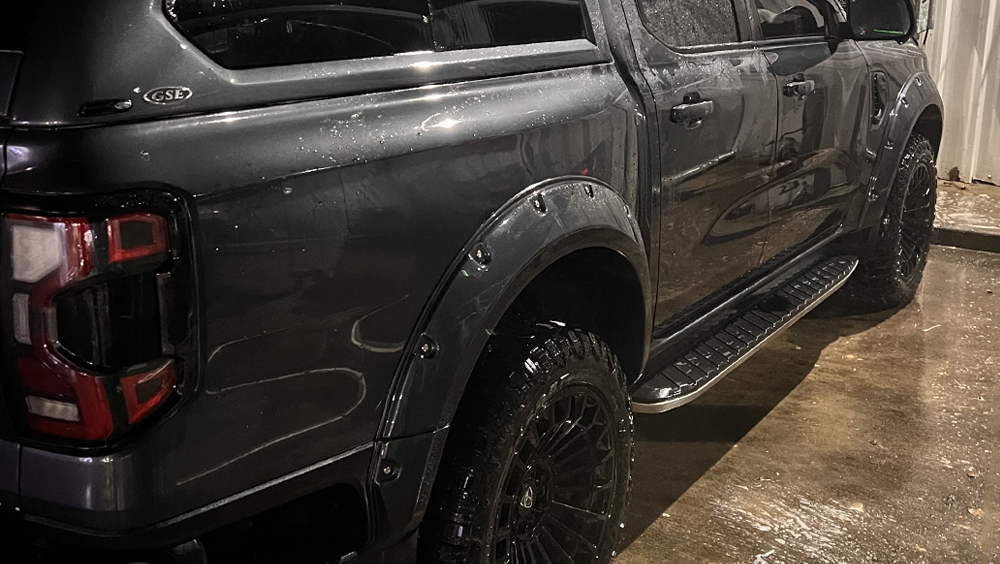 Our next-gen Ford Ranger Wildtrak was fitted with:
Alpha GSE Canopy
20" Predator Iconic Alloy Wheels + Renegade Mud Tyres
20" Predator Panthera Wheels + Renegade Mud Tyres
Predator Platform Roof Rack
Bonnet Guard
Front & Rear Light Surrounds
Tow Bar
Wheel Arch Extensions (Colour Coded & Matt Black 2 x Different Styles)
Dark Smoke Wind Deflectors
To keep updated on all the accessories and upgrades we have coming soon for the all-new Ford Ranger and Raptor, sign up to our mailing list and be the first to know when these arrive.