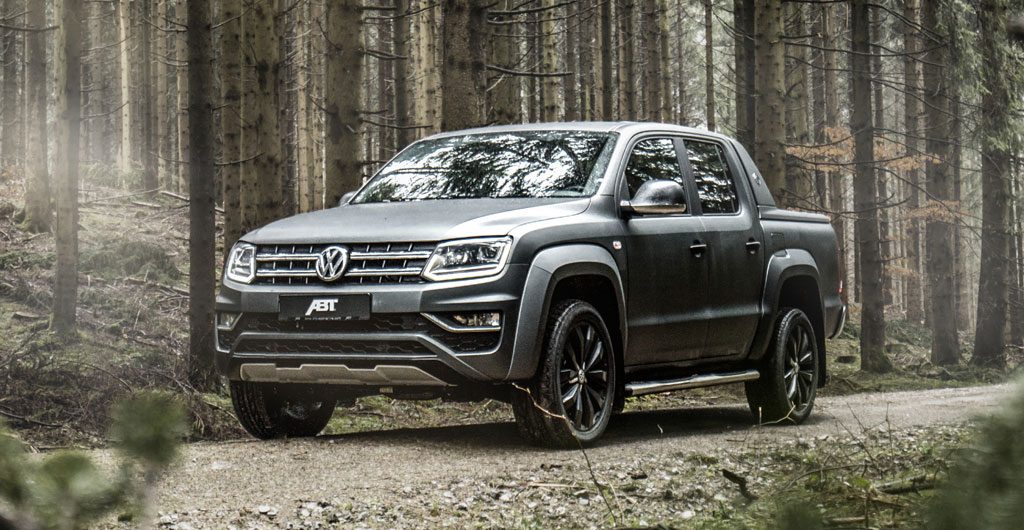 If you are into your German cars, particularly those coming from the VW Audi Group, you may have heard of a company named ABT. For those not familiar with them, ABT is a motor racing and auto tuning company based in Germany.
ABT mainly deals with Audi and the related primary Volkswagen Group brand such as VW, Skoda & SEAT and have been in business for over 120 years. So, it's safe to say they are quite experienced in how to get the best out of the vehicles they tune. Their new creation, the ABT Amarok pickup, is no exception.
ABT has taken the more powerful 3.0-litre V6 engine that was introduced into the Amarok range last year and squeezed an extra 48 horses out thanks to their new plug-in tuning ECU. The result is a pretty hefty 306hp and 465lb-ft of torque. Both the increased power and torque are produced in the same rev range as the standard model, so there won't be a change in drive-ability for the extra output.
The extra power also means that the ABT Amarok's 0-62 time falls from 8.0 seconds to 7.8 seconds and its top speed increases to 131.1mph from the standard 128mph. With many Amaroks having to work for a living, ABT is also keen to stress that the extra power and torque make a noticeable difference when the pickup is towing, or carrying weight.
VW fans will be keen to note that the boosted V6 TDI Amarok comfortably outguns the Ford Ranger Raptor in the horsepower stakes. The Raptor uses Fords new 2.0-litre Bi-Turbo engine and produces 213hp and 369lb-ft of torque, which is just under 100 hp and lb-ft of torque less than the ABT Amarok.
Although the impressive off-road ability of the Ranger Raptor means it could well take the fight to the ABT Amarok pickup should the terrain begin to get rough.
We have a large range of VW Amarok accessories including hard top canopies, tonneau covers, load bed accessories and seat covers. Our accessories are from some of the industry-leading manufacturers such as Alpha, Pro//Top, Aeroklas, Carryboy and Roll'N'Lock. Make sure to check them out!