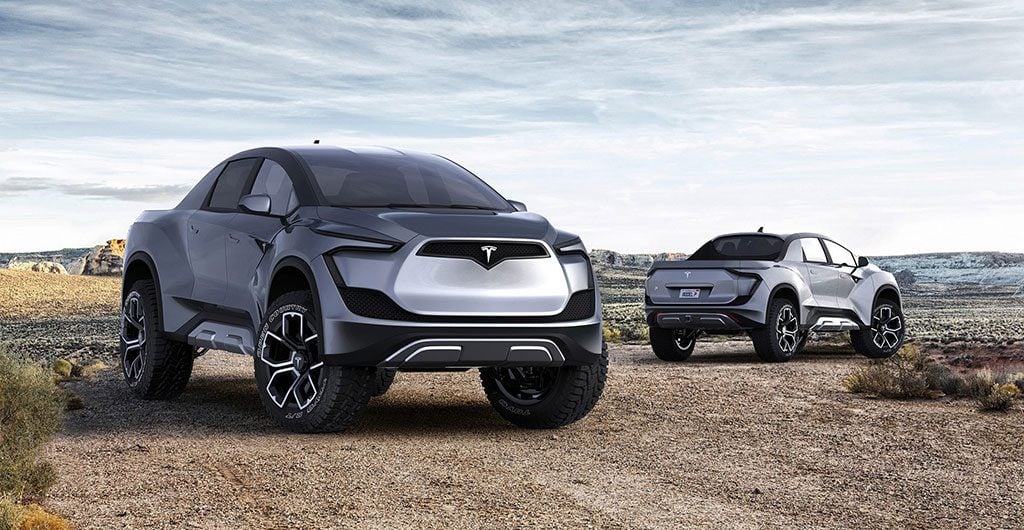 Elon Musk has been making some bold claims about his upcoming electric Tesla pickup. With regards to the price, Elon has stated that Tesla is aiming to keep their pickup truck, that is set for an unveiling later this year, at under $50,000. That would make for a very interesting electric pickup truck option in the market, especially if it looks anything like the concept image above.
Elon stated that "We don't want it to be really expensive. I think it has got to start at less than $50,000 – it's got to be like $49,000 starting price max. Ideally less. It just can't be unaffordable. It's got to be something that's affordable. There will be versions of the truck that will be more expensive, but you've got to be able to get a really great truck for $49,000 or less."
This is a big claim and is a major step forward for the electric vehicle market because as many know electric vehicles like the Tesla range are often vastly more expensive than their internal combustion counterparts. But if the Tesla Pickup can fulfill this claim the price gap will shrink meaning it may be a viable option for pick up owners.
Elon also mentioned that the Tesla Pickup will not look like anything we have seen before in the Pickup market, "It's got to have incredible functionally from a load-carrying standpoint, look amazing – but it won't look like a normal truck. It's going to look pretty sci-fi. That means that it's not going to be for everyone- like if somebody just wants to have a truck that looks like trucks have looked like for the last 20 to 40 years, it's probably isn't for them."
Now, this isn't the first time we have talked about Electric vehicles on our blog, as earlier in the year we told you about Rivian and their Electric R1T. We now have extra details on that vehicle as Rivian has said that the R1T's price should start around $69,000. This means the if Tesla can achieve the same range for that price point, they would have something extremely interesting in the segment.
As for the design, we have a much better idea now that Elon says that people might think "it doesn't look like a truck". They are probably going for a much more aerodynamic design, which is, of course, unconventional for a pickup truck.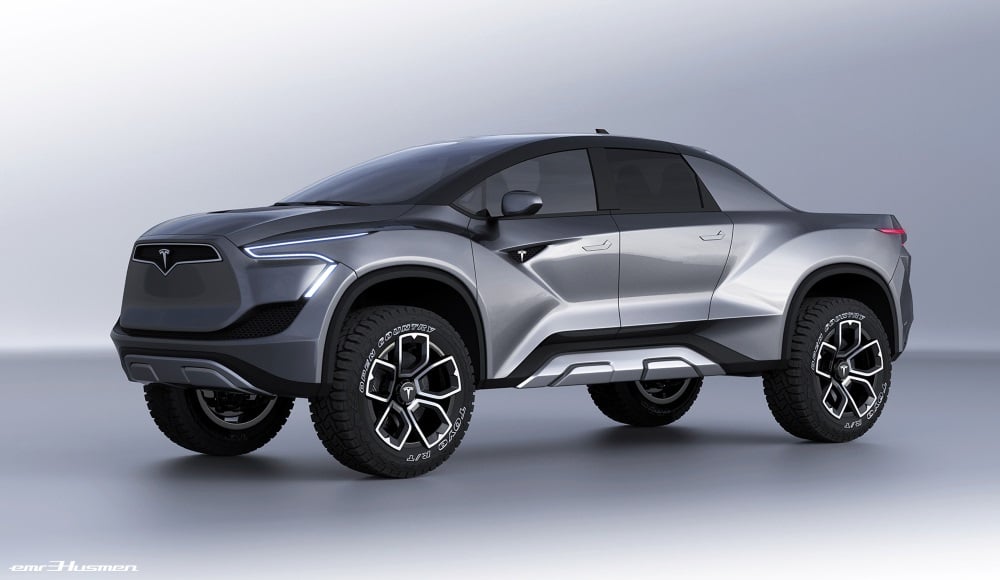 Can't Wait For The Tesla Pickup Truck?
In the same week that we reported on the news above, we've also seen a news story of someone who got tired of waiting for Tesla to release their pickup truck. Instead, they've taken a Tesla Model 3 car and created their own "Truckla".
Simone Giertz is a YouTuber who normally makes robots and really wanted a Tesla pickup truck but didn't want to wait however long it will take Elon Musk to get Tesla's own pickup released.
So what are your options? Well, the only other practical(?) option is to buy a Tesla Model 3 and convert it into a pickup truck. You can check out the result in their "Truckla" advertisement video below.
Having seen the end result of what they have achieved here, you can also check out exactly the process of their modifications in the video below. It certainly makes for an interesting project to see come together from start to finish and just goes to show how much time and effort went into this electric pickup truck.
In terms of the "Truckla" pricing, we're not exactly sure how it compares to the predicted official launch price of the Tesla pickup truck. But you'd have to assume that the cost of the Tesla Model 3 and modifications that were made would surely be cheaper than the touted $49,000 price tag that Elon has mentioned.
Either way, here at 4x4AT, we can really appreciate this level of customisation. Well done Simone!
Tesla Pickup Truck Overtakes Ford Ranger As Most Talked About (On Twitter)
As a further update, one thing that Tesla is very good at (other than making impressive electric-powered vehicles) is generating hype and publicity buzz around their current and upcoming products. For instance, over 100,000 people put down a $1000 deposit for a Model 3 after the announcement event, before anyone had actually driven one.
A similar thing is happening with the Tesla Pickup, at least in terms of one particular metric. Thanks to Elon Musk's ongoing updates on Twitter including potential price information, different people's recent concept renders (one of which we've featured above) and of course Simone Giertz's home-made Tesla Pickup project, there's been a lot of coverage on Twitter.
The Ford Ranger (F-150) had been the most talked-about pickup truck on Twitter up until now, however, the Tesla Pickup is now taken that accolade, for whatever it's worth, at least.
It's one thing for a more technology-inclined userbase of Twitter to talk more about a Tesla electric-powered product, but whether than kind of interest will eventually translate to sales that take away from the Ford Ranger is very debatable. Perhaps, Tesla is aware of this and that's why they are purposefully saying that their pickup truck will look very different and even feature a more "cyberpunk-design" to appeal to a more niche or at least different market segment more willing to pay the asking price than the traditional mainstream pickup truck market.
This can perhaps be shown in the map of the USA shown below that shows which pickup has been talked about more in which particular states. There does seem to be a clear trend of more interest in Tesla in the states with well-known technology-based industries.
Either way, interesting and exciting times ahead for the pickup truck industry!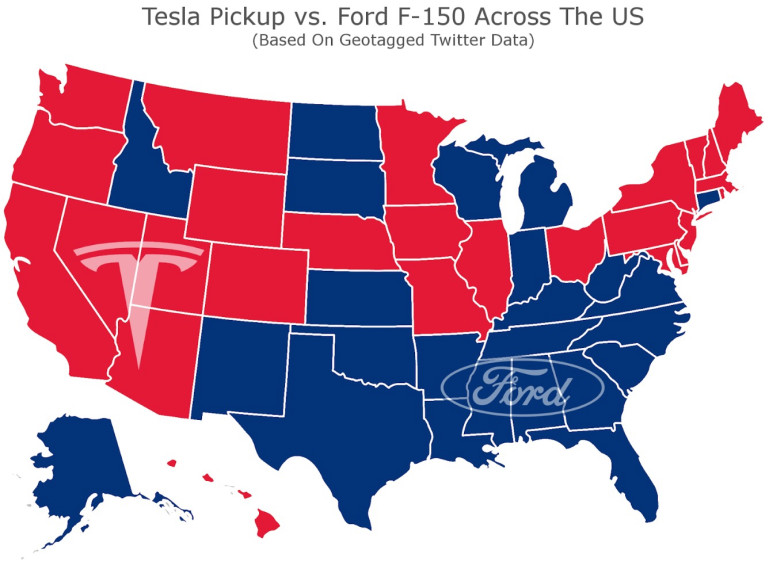 Image Credit – AutoWise