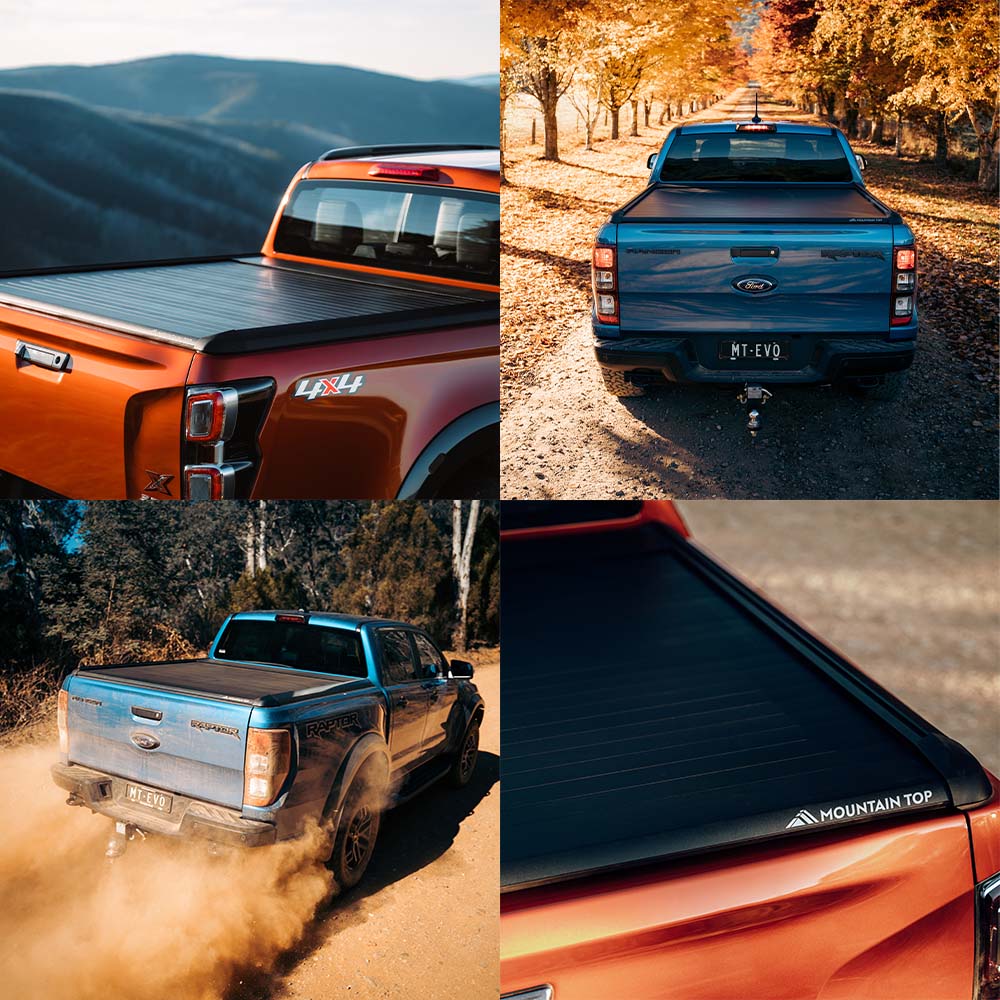 We are pleased to announce that the all-new EVO Series of roller shutters from Mountain Top are now available from us here at 4x4AT.
The EVO Series of roll covers are defined by two great new offerings, the EVOm and remarkable EVOe.
The EVOm is a quality manually operated cover while the EVOe is electric powered and remotely operated by its own key fob.
These two new top-notch feats of roller shutter engineering are now available on sale via 4x4AT.
We stock EVOm and/or EVOe for the following pickup trucks: VW Amarok, Isuzu D-Max, Toyota Hilux, Ford Ranger, including Wildtrak and the Mitsubishi L200.
Mountain Top EVOe
The most exciting feature and improvement to roller shutters has to be the EVOe roll cover, which has the ability to control, open and close it from its very own key fob. Any time the cover is stopped, whether opening or closing, it locks automatically, boosting safety. It makes things far simpler and life far easier.
What happens if there is power failure issue you ask? Well fear not, there is manual mode as well, allowing access even if power isn't there for whatever reason. Advanced technology also means there is an emergency stop and reverse, ensuring your items and vehicle don't get damaged. The soft mechanism, one-click auto calibration and dual-speed belt drive facilitate the owners' easy life. Why make difficulties when they can be simplified with the EVOe?
Of course, technology isn't the only positive to the new EVOe roller shutter, the finish is exquisite too! Sleek and sporty, a combination everyone strives for, done in this case very successfully.
With back edge or handle, the aesthetic is certainly top notch. No handle means no fuss, plus, having no handle means there is no visible means of accessing the truck load bed. It really is exceptionally well put together; along with a strong exterior, the roll cover sits on top of the tray resulting in increased clearance height.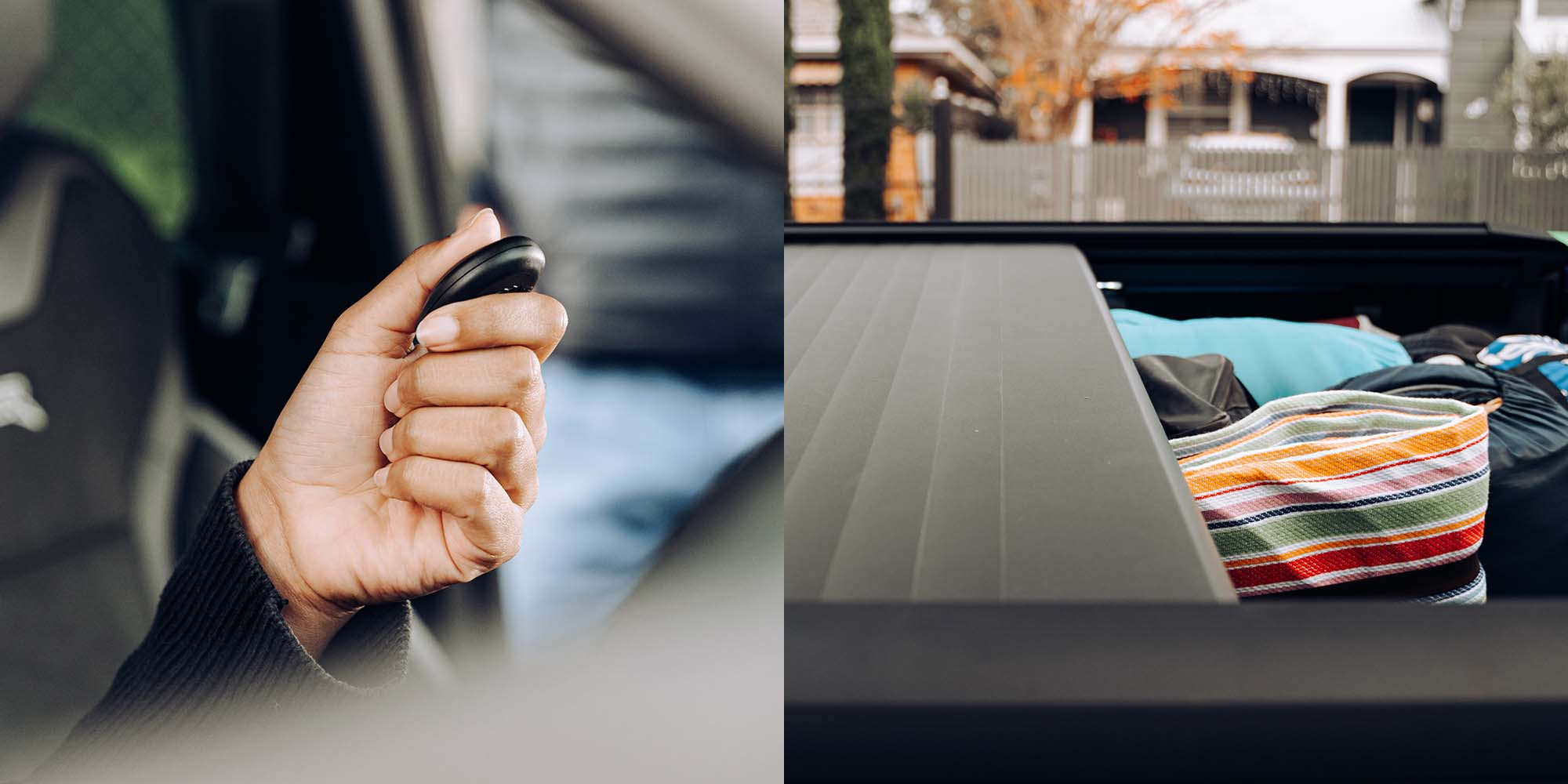 Mountain Top EVOm
The EVOm has plenty of positive points too, most of them shared with the EVOe of course. The main difference is obviously that the EVOm roll cover is manually operated. The EVOm roller shutter will still do a great job for you and is perfect for anyone who is not a fan of adding extra tech, is perhaps on a tighter budget, or indeed just prefers to do it all by hand.
As well as superb practicality, the aesthetic can still be referred to as sleek and sporty too of course; with no handle either and interlocking aluminium slats, this is maximised to its full potential.
The EVOm also comes with an 'emergency exit' feature. There is a release handle within the cargo area, which just needs to be pulled. No more getting stuck in sticky situations.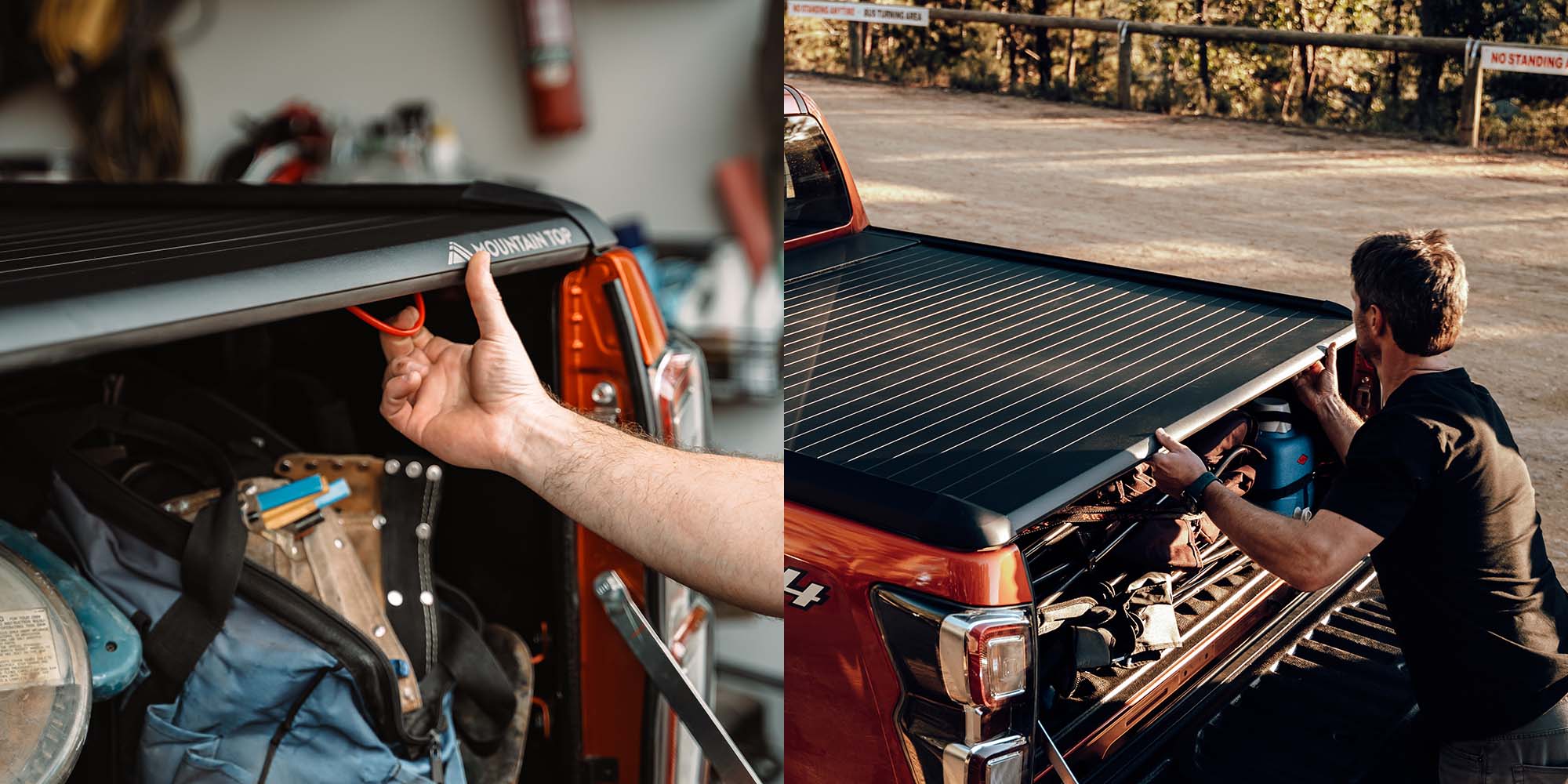 EVO Series Roller Shutter Features and Benefits
Every pickup owner considering a roller shutter should choose one which provides the best possible protection; from adverse weather or from anyone who would like to gain unauthorised access. The EVO Series has been developed to withstand both and keep your tools or belongings safe. It is the number one weather-resistant roll cover on the market with 6-point drainage system that has the ability to drain 40 litres per minute.
The strong yet lightweight aluminium slats are 100% knife-proof, and combined with the design having no external handles, removes these potential vulnerabilities, helping to maximise protection.
To match the lines and designs of modern pickups, the EVO Series roll covers have been created to be sleek and sporty, with a powder coat finish and an infinity design.
Maximum storage space is achieved with a combination of utilising the smallest canister on the market and the EVO Series design sitting on top of the tray which increases clearance height, maximising available space and improving practicality.
Built-in accessory tracks, working with a ClickTech system, facilitate accessory installation. Designed in both EVOm and EVOe, it is easy to attach any compatible accessory you might need.
EVO Series roll covers will look better for longer due to
the lightweight powder-coated aluminium; strength and durability are excellent.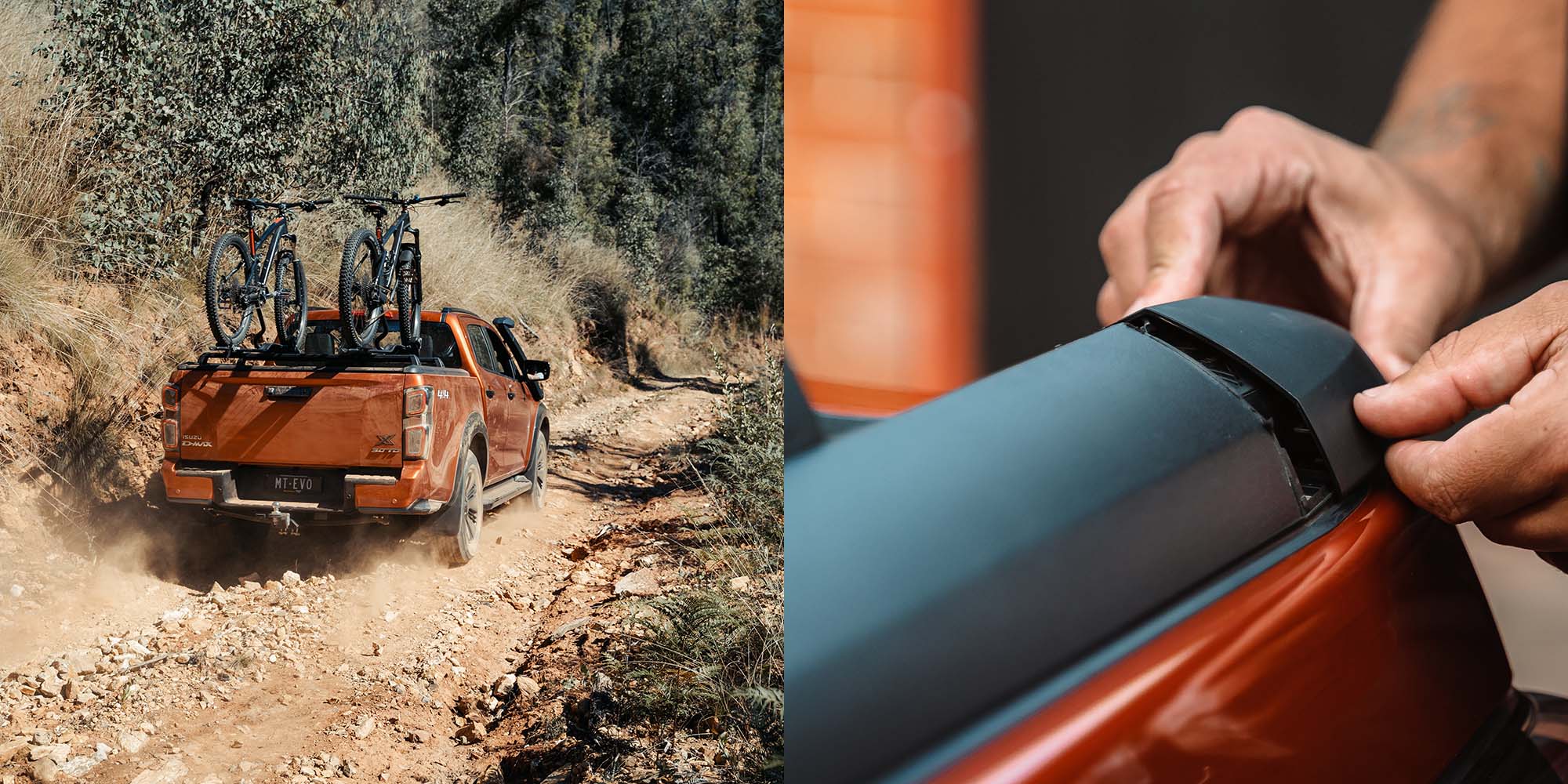 Order your new EVOm or EVOe online at 4x4AT.
We offer a professional fitting service at two locations.