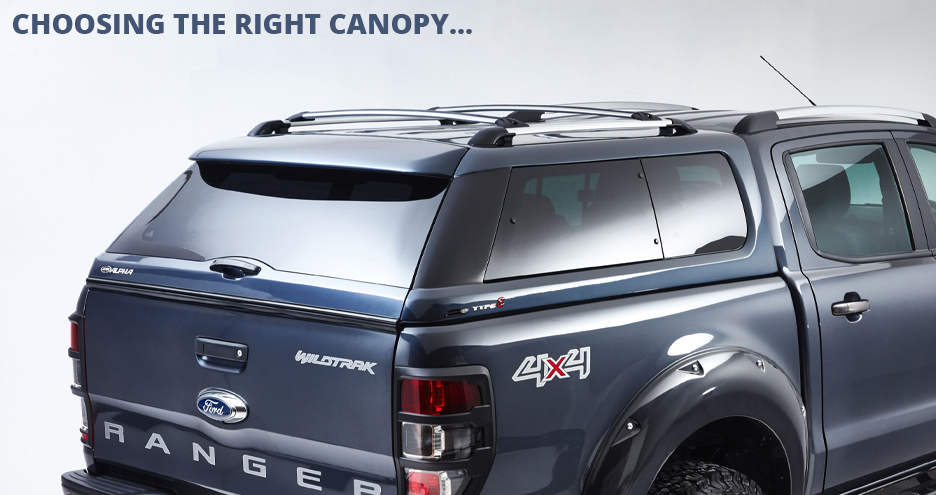 One of our biggest selling accessories are hardtop canopies for pickups. This is because we are the largest stockists of 4×4 and pickup truck accessories in the UK, plus the fact we are the biggest UK supplier for several of the best quality international hardtop manufacturers such as Alpha, ProTop, Carryboy and Aeroklas.
Hardtop canopies are big sellers because they are incredibly useful. They increase the internal capacity and flexibility of your vehicle instantly, not to mention its security. Providing a clean, lockable, and weatherproof space, they are popular for both leisure and commercial use. Leisure hardtops have side windows whereas commercial types are solid sided to aid privacy. The additional space provided by the hardtop is designed to carry tools and equipment and the sides offer a suitable surface for signwriting for business use.
4X4AT's hardtops are available in a good range of colours and configurations to match your vehicle – we have models suitable for all popular brands of pickup; you can use our accessory finder to find the perfect one for your make and model. Let's look at a few of our canopies, including models new to the market, in closer detail …
---
*NEW* – The Alpha XS-T leisure canopy for the Ford Ranger. This new Alpha leisure hardtop is already flying out of our warehouse. Alpha are renowned for their durable yet sleek design and easy fitting, using a 6-point installation system which does not require drilling. Dupont paint gives an unbeatable finish, and a sliding bulkhead window gives extra ventilation – which is great for dogs. You don't need an additional key fob as this can be controlled by your vehicle's central locking system.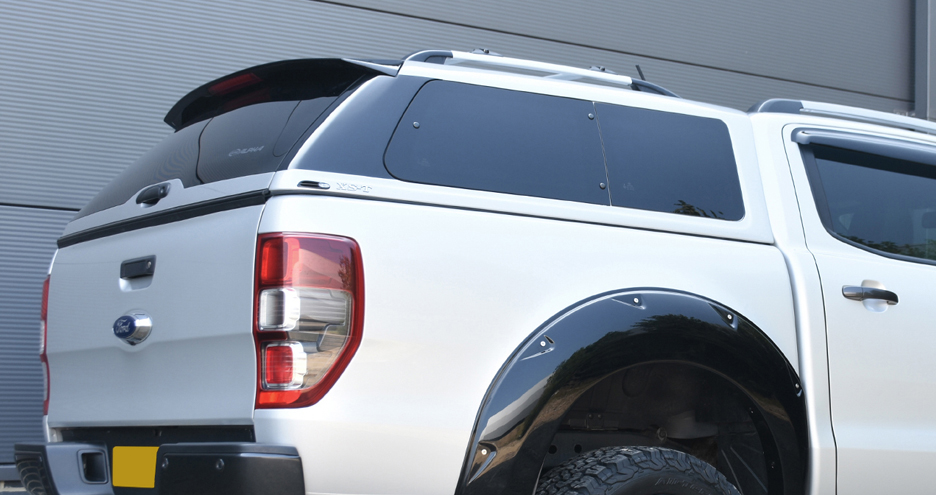 Best Seller – The Alpha Type-E leisure canopy. Alpha excels in refined design and this best-selling hardtop leisure canopy is deservedly popular as it combines outstanding practicality and build quality with sleek, somewhat sporty looks. Featuring tinted pop-out windows, brushed silver roof racking, a heated rear windscreen and sturdy gas struts for improved opening and closing of the tailgate, this is a recommended leisure hardtop which will greatly enhance your pickup.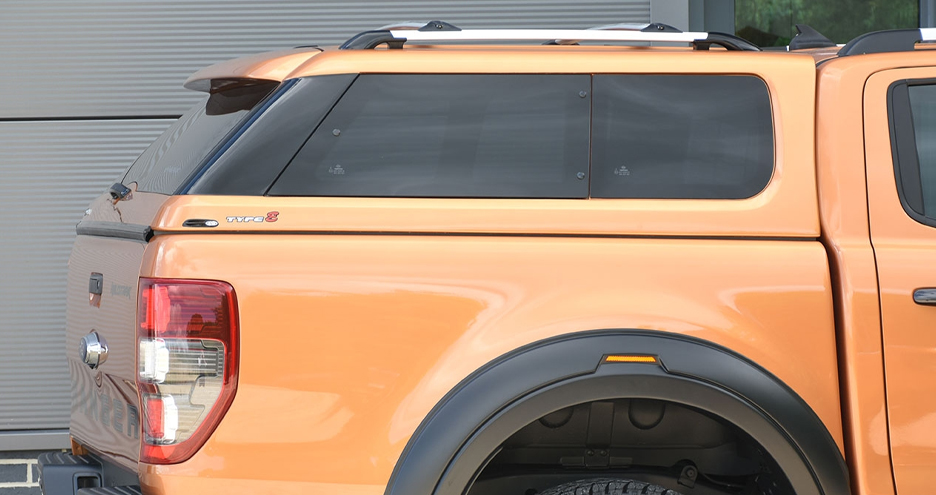 Popular – The Aeroklas leisure canopy. Formed from solid sheets and carefully moulded, this Aeroklas hardtop is made from a double thickness of ABS (this is a very durable type of engineering thermoplastic called acrylonitrile butadiene styrene, which is not fibreglass and therefore more environmentally friendly and recyclable). This material offers lots of advantages as it is very tough, lacks any odour or weak joints, is impervious to corrosion, easy to clean and maintain and is lightweight. First developed in Australia for use in the rural farming industry, Aeroklas canopies have been rigorously tested by those harsh conditions – extreme weather, heavy duty usage in rugged landscapes – and have proved to be world-class high-performance equipment.  The canopies can be purchased in all vehicle colours and come with a 3-year guarantee.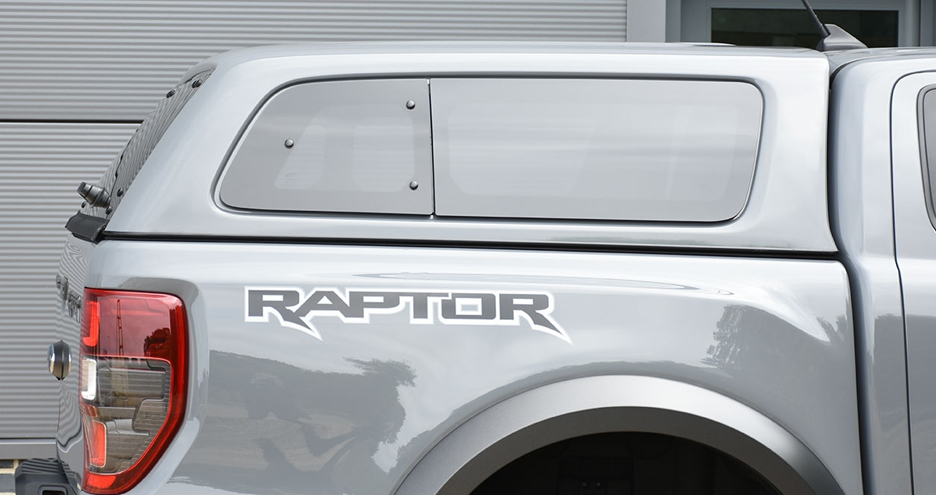 Commercial Use – the Aeroklas commercial double cab hardtop. The unique double ABS shell layer that Aeroklas employ gives this commercial hardtop impressive strength. With interior lights and lining, a rear brake light, solid sides to keep contents private and good ventilation, this is a popular competitively priced choice favoured by professionals such as plumbers, builders, farmers, engineers and electricians. The Aeroklas quality paint finish will provide good looks for an exceptionally long time and the interiors are fully washable, even by power washers.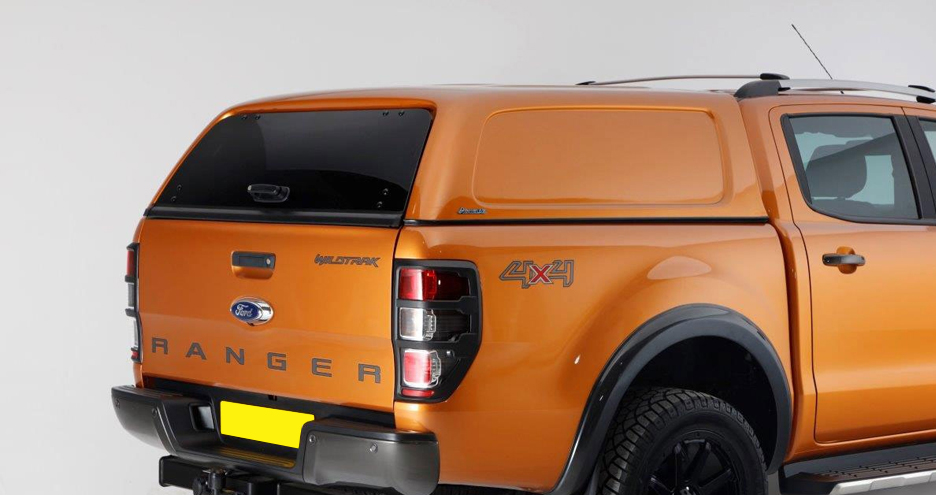 Professional's Choice – Pro//Top Gullwing commercial canopy. A hard-working well-designed hardtop canopy, this Pro/Top model is strong and practical. The side gullwing doors (which open out sideways away from the canopy) make this canopy very suited for commercial use, as access to the interior is quick and simple – for this reason it's popular with tradespeople, emergency services and even delivery and courier companies. There are stainless steel locks and fittings throughout and the roof carrying system can handle up to 100kg. An optional solid rear door offers additional security if required.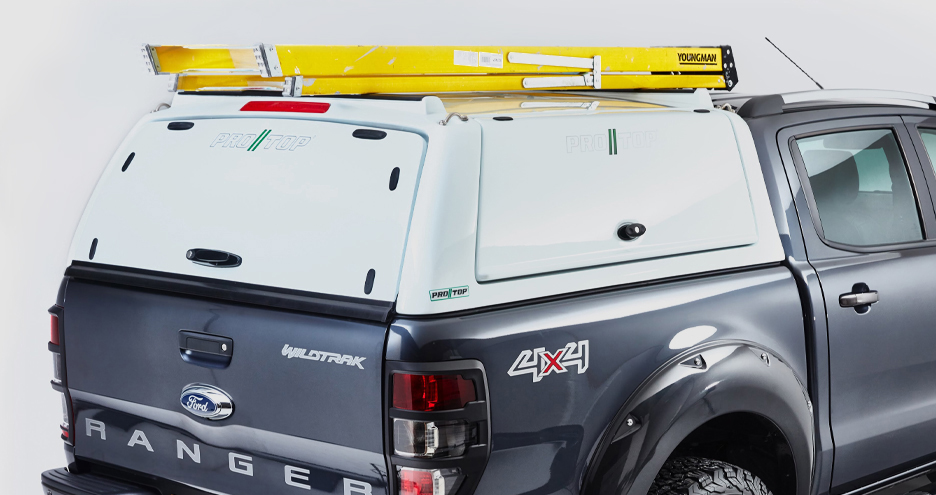 Leisure All-Rounder – Carryboy, with its hardtop manufacturing experience, produce excellent leisure and commercial canopies for all popular pickups: Ford, Fiat, Toyota, Isuzu, Mitsubishi, VW and Nissan. Carryboy have been in the business for almost 40 years and their output has proved its suitability and reliability over the years. Production is rigorously quality controlled; each canopy being formed from a single sheet of fibreglass – each are then individually tested before being carefully crated up and delivered to us. Fitting is quick and simple; the canopy is lightweight but sturdy and all fitments are stainless steel. One of our biggest selling models is the Carryboy leisure hardtop canopy, which is available in 8 colours. For a good choice for most brands of vehicle which will give years of trouble-free service at an affordable price, you can't go wrong with Carryboy.
---
Hardtop Extras – Drawer Systems. If you are looking for a hardtop canopy, particularly for commercial purposes, you should also consider a drawer system. Our bespoke drawers work well with a canopy and offer even more flexibility and storage space which is incredibly secure. Ideal for gun cabinets and carrying expensive/more delicate equipment and tools, their heavy-duty rollers and lined interiors make them easy to use at the time when you most need it.  Browse our selection of drawer systems – which are all compatible with our range of canopies.