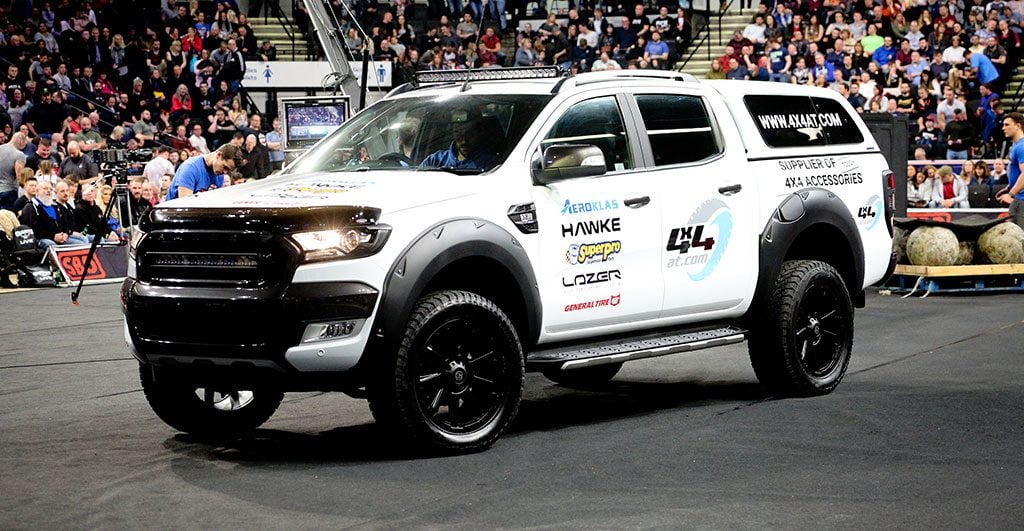 Britain's Strongest Man is a prestigious event that takes place every year. This year we had the pleasure of supplying not 1 but 2 fully accessorised Ford Ranger pick-up trucks to the event. Our 2 trucks were used in the deadlift category, which meant the strongmen had to lift our extremely heavy trucks as many times as they could.
Our trucks were lifted by the likes of Eddie Hall, Terry Holland and Graham Hicks it was amazing to watch them lift our heavy trucks, a surprising amount of times, and we were thrilled to be a part of this.
If you missed this exciting event or just want the opportunity to watch it again it will be airing on Channel 5, this Wednesday (12th December 2018) at 7pm – so don't miss it.

Britain's Strongest Man will be back on the 19th January 2019 with more action-packed events. Tickets are still available for the 2019 Britain's Strongest Man. Don't miss out on the opportunity to go to this spectacular event. Tickets are available here.
Win Tickets In Our Competition!
4X4AT is lucky enough to have 2 pairs of tickets to the 2019 Britain's Strongest Man to give away in our competition. The event will be held at the FlyDSA arena in Sheffield. To be in with a chance of winning a pair of tickets all you have to do is fill in the form below and enter your current vehicle. The competition ends on the 10th January 2019 so enter now before it's too late.
Terms and Conditions
1. The prize draw (the "Prize Draw") is open to people aged 18 and over who provide their email address and vehicle details.
2. Employees or agencies of NLG, 4x4AT its group companies or their family members, or anyone else connected with the Prize Draw may not enter the Prize Draw.
3. Entrants into the Prize Draw shall be deemed to have accepted these Terms and Conditions.
4. By submitting your personal information you agree to receive emails from NLG/4x4AT containing offers and developments that we think may interest you. You will be given the opportunity to unsubscribe on every email that we send.
5. To enter the Prize Draw you must complete your vehicle details, name and email address. No purchase is necessary. If you have any questions about how to enter or in connection with the Prize Draw, please e-mail us at sales@4x4AT.com with "Britain's Strongest Man Competition 2019" in the subject line.
6. Only one entry per person. Entries on behalf of another person will not be accepted and joint submissions are not allowed.
7. NLG/4x4AT accepts no responsibility is taken for entries that are lost, delayed, misdirected or incomplete or cannot be delivered or entered for any technical or other reason. Proof of delivery of the entry is not proof of receipt by NLG/4x4AT.
8. The closing date of the Prize Draw is 23:59 on 10th January 2019. Entries received outside this time period will not be considered.
9. Two winners will be chosen from a random draw of entries received in accordance with these Terms and Conditions. The draw will be performed by a random process. The draw will take place on 11thJanuary 2019.
10. The winners will each receive a pair of tickets to"Britain's Strongest Man", which takes place at the FlyDSA Arena, Sheffield on 19th January 2019.
11. NLG/4x4AT accepts no responsibility for any costs associated with the prize and not specifically included in the prize (including, without limitation, travel to and from the event).
12. The winner will be notified by email on or after 11th January 2019 and must provide a postal address to claim their prize. If a winner does not respond to NLG/4x4AT within 7 days of being notified, then the winner's prize will be forfeited and NLG/4x4AT shall be entitled to select another winner in accordance with the process described above (and that winner will have to respond to notification of their win within 7 days or else they will also forfeit their prize). If a winner rejects their prize or the entry is invalid or in breach of these Terms and Conditions, the winner's prize will be forfeited and NLG/4x4AT shall be entitled to select another winner.
13. The prize will be sent to the winner by post.
14. The name and country of the winner can be obtained after 11th January 2019 by sending a stamped addressed envelope to the following address: 4x4AT, Meridian Park, Leeming Bar Industrial Estate, Leeming Bar, Northallerton, North Yorkshire, United Kingdom, DL7 9UJ.
15. The prize is non-exchangeable, non-transferable, and is not redeemable for cash or other prizes.
16. NLG/4x4AT retains the right to substitute the prize with another prize of similar value in the event the original prize offered is not available.
17. NLG/4x4AT shall use and take care of any personal information you supply to it in accordance with data protection legislation. By entering the Prize Draw, you agree to the collection, retention, usage and distribution of your personal information in order to process and contact you about your Prize Draw entry, and for the purposes outlined in paragraph 14 above.
18. NLG/4x4AT accepts no responsibility for any damage, loss, liabilities, injury or disappointment incurred or suffered by you as a result of entering the Prize Draw or accepting the prize. NLG/4x4AT further disclaims liability for any injury or damage to your or any other person's computer relating to or resulting from participation in or downloading any materials in connection with the Prize Draw. Nothing in these Terms and Conditions shall exclude the liability of NLG/4x4AT for death, personal injury, fraud or fraudulent misrepresentation as a result of its negligence.
19. NLG/4x4AT reserves the right at any time and from time to time to modify or discontinue, temporarily or permanently, this Prize Draw with or without prior notice due to reasons outside its control (including, without limitation, in the case of anticipated, suspected or actual fraud). The decision of NLG/4x4AT in all matters under its control is final and binding and no correspondence will be entered into.
20. NLG/4x4AT shall not be liable for any failure to comply with its obligations where the failure is caused by something outside its reasonable control. Such circumstances shall include, but not be limited to, weather conditions, fire, flood, hurricane, strike, industrial dispute, war, hostilities, political unrest, riots, civil commotion, inevitable accidents, supervening legislation or any other circumstances amounting to force majeure.
21. The Prize Draw will be governed by English law and entrants to the Prize Draw submit to the exclusive jurisdiction of the English courts.
22. Promoter: 4x4AT, Meridian Park, Leeming Bar Industrial Estate, Leeming Bar, Northallerton, North Yorkshire, United Kingdom, DL7 9UJ.