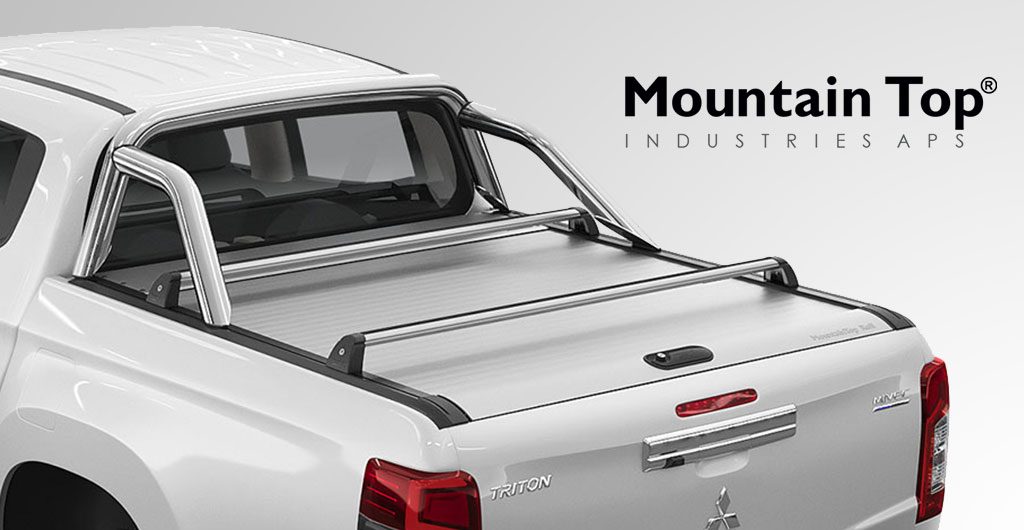 The new Mountain Top Roll load bed cover embodies more than 20 years of experience in design and manufacturing of aluminium-based load bed cover products, and sets the standard for retractable roll covers for pickup trucks when it comes to design, quality, and functionality. In fact, tonneau covers such as these were also featured in our recent article about the Top 10 Must-Have 4×4 Accessories For New Pickup Truck Owners.
Mountain Top Industries is one of the leading 4×4 truck accessory players and has more than 20 years of experience within the pick-up truck automotive industry. Mountain Top believes in efficiency, quality and creativity and takes pride in fulfilling the requirements of customers, as their needs drive the development of first-class industry-leading 4×4 pick-up truck accessories.
With its strong and durable, yet lightweight, aluminium roll cover the Mountain Top Roll adds style and appeal to your pickup. Significantly this will enhance the practicality of the cargo area without limiting its versatility. The roll cover provides a high level of protection from the elements and keeps your belongings safe and dry inside the vehicle bed.
The Mountain Top Roll also features integrated accessory fitting channels in the side tracks for the easy and secure installation of other Mountain Top accessories, such as the Cross Bar Cargo Carriers and Sports Bar. The Mountain Top Adapter Kits enable the combination of an original sports bar with the Mountain Top Roll and are also mounted to the fitting channels.

Key Features of the new Mountain Top Roll Load Bed Cover include:
Available for a range of vehicles including the VW Amarok, Toyota Hilux, Ford Ranger, Mitsubishi L200 & Nissan Navara
Retaining the pick-up truck appearance
Allows large loads to be carried
Aerodynamic design improves MPG
Three stage opening – Open 1/3rd – 2/3rd's or fully open
Compatible installation kit with factory fitted roll bars for Hilux, Ranger and Amarok
Fully lockable, class leading security – Secure by design
3-year warranty
For full details on this great new product, be sure to visit our website, be quick though as we expect these to be very popular accessories!
Also, if you're still unsure whether this type of product is for you, then just take a look at our "Which Load Bed Cover Is Best For You" tool. Simply answer a few multiple choice questions and you'll be recommended the best type of load bed cover for your usage.