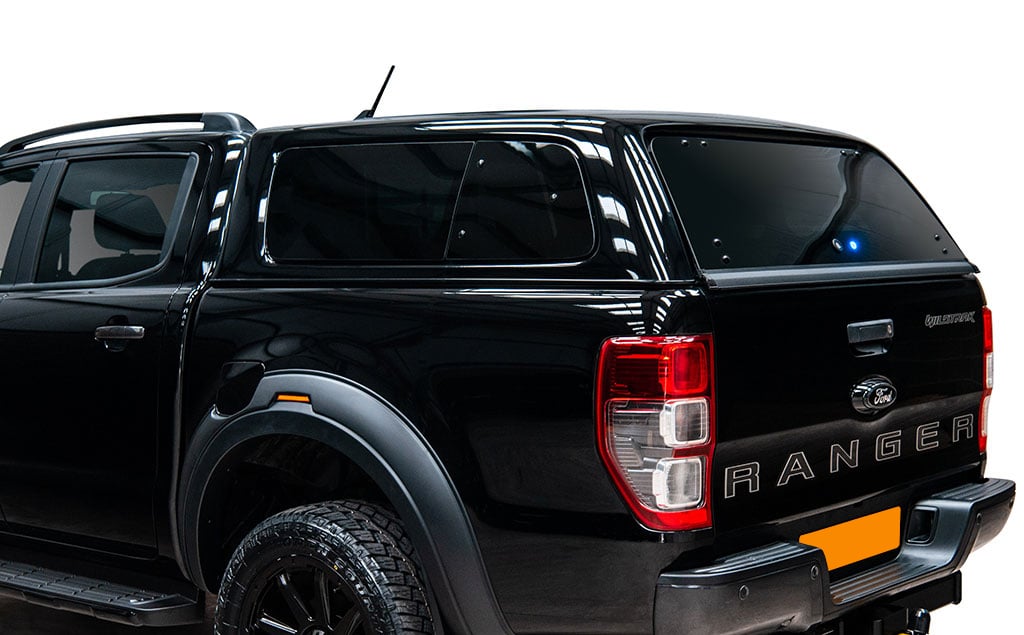 4x4AT is always at the forefront of new product development and sourcing, bring the world's best accessories to our customers. This month, we are very pleased to announce that we are the exclusive UK distributor for the impressive new Aeroklas E-Tronic Hardtop Commercial and Leisure Canopy.
At the moment, this new innovative canopy is only being made for the Ford Ranger (2019 onwards) and the Isuzu D-Max (2021 onwards), but it will be rolled out for other vehicles soon (we will let you know when – watch this space!). It is available as a commercial style canopy with solid side panels for enhanced privacy/security, and a leisure version which boasts pop-out style tinted side windows.
Aeroklas – born out of the need for vehicle products able to cope with the challenging environments of the rugged Australian outback – have been a leading brand in off-road vehicle parts for decades now and continue to bring impressive improvements to the industry. Let's take a look at what the Aeroklas canopies, and the new E-Tronic model, have to offer.
Aeroklas manufacturing quality
Every Aeroklas canopy is made with a unique twin skin design – giving double the strength and great impact resistance. Formed from one solid shell of recyclable ABS, there are no weak points, joints or rust to worry about. This is all finished off with the best quality Dupont paint with built-in UV resistance, giving long lasting protection in even the harshest conditions.

Standard features and benefits of Aeroklas canopies
There is a useful sliding bulkhead window, for ventilation or ease of access, and an interior LED light. A heated rear window demister will be appreciated in winter by owners, and the rear brake light is an effective safety feature.
Ease of fitting and colour matching
Fitting is fast and secure with a system of internal g-clamps, which are removable and easily adjustable – no drilling is required. The wiring is 'plug and play' and the whole installation takes less than an hour. This canopy is available in 10 colours, all compatible with OEM paint tones and quality. This blends the canopy seamlessly with your vehicle for a stylish streamlined look – Aeroklas canopies become part of your 4X4 rather than a bolted-on part.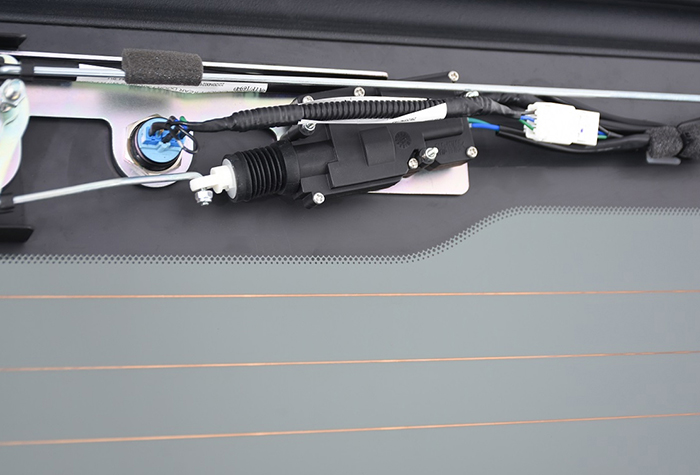 E-Tronic innovations
Here's the exciting part – what is new on the E-Tronic canopy compared to the older Aeroklas model? The clue is in the name – it is a new electronic door release. The handle on the rear door has been removed and instead there is a simple push button to open, with a manual lock as well (in case of loss of power). This makes opening the rear doors very quick and easy – incredibly useful when busy or your hands are full of tools – no fumbling for the key or having to use a handle.

The rear door is operated with the vehicle's central locking system, using the same key fob control (no additional one needed). Like the rest of the canopy's electrics, it's a quick straightforward plug-in fitting to the existing central locking … providing peace-of-mind security that the tailgate is locked at the same time as the rest of the vehicle.
Take a look at our short video to see how good the new E-Tronic door release button looks, and how it works:
Engineering improvements on the E-Tronic canopy
In addition to the new electronic door opening system, there have been upgrades on the canopy's design. The rear door aperture has been enlarged, in width and height – allowing for increased ease of access. The gas struts have been beefed up and are stronger than ever. A roof spoiler (colour matched) gives improved aerodynamics and flush fit roof rails are standard (optional upgrade to x bars).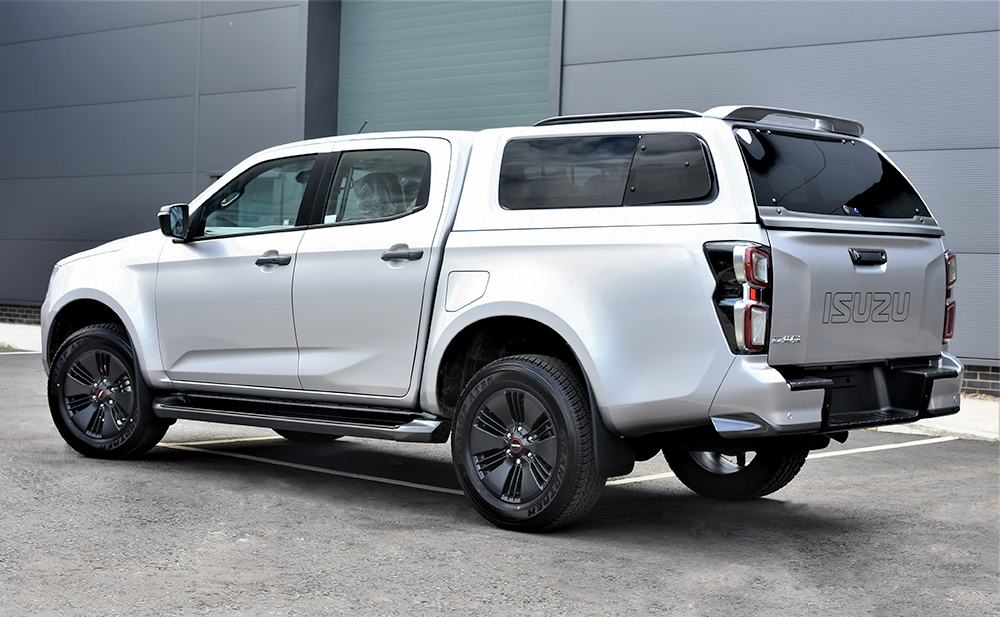 Exclusive UK Supplier
We are the leading supplier of all Aeroklas hardtop canopies, and the ONLY UK supplier for these innovative new E-Tronic models. We offer our customers expert advice after our years of experience with these products – and this reputable brand – combined with a vast product knowledge, an easy-to-use website and friendly showroom staff.
Give us a call soon on 01677 428799 to find out more about these impressive canopies, or click below to go to our website.
Ford Ranger 2019 On E-Tronic Aeroklas Leisure Hardtop Canopy
Ford Ranger 2019 On E-Tronic Aeroklas Commercial Hardtop Canopy
Isuzu D-Max 2021 On E-Tronic Aeroklas Leisure Hardtop Canopy
Isuzu D-Max 2021 On E-Tronic Aeroklas Commercial Hardtop Canopy