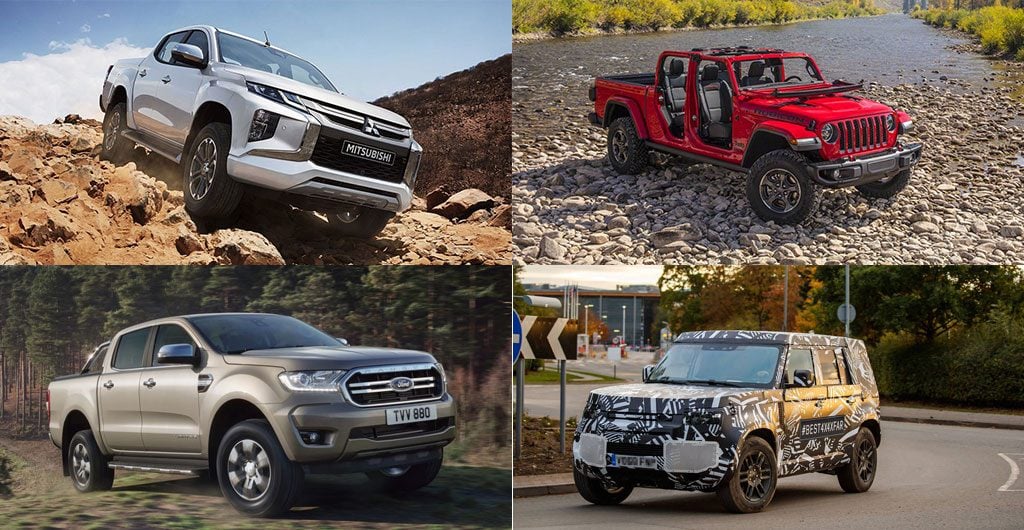 1. 2019 Ford Ranger

Release Date: June 2019
Price: TBA
The Ford Ranger 2019 will be arriving into UK showrooms from June. The new Ranger pickup is set to be powered by a 2.0-litre EcoBlue diesel engine, and promises more power, fuel economy, better refinement and more safety systems.
The current generation (T6), hit European dealerships in 2012, however it is already one of the oldest models on the market. The T6 got a facelift in 2016 and more recently had a Raptor model added to its line-up, you can read about that here. This second update serves as a stopgap until the next all-new model comes out in 2022.
2. 2019 Mitsubishi L200

Release Date: September 2019
Price: £28,000 (est)
Already launched in Asia last year, we will have to wait till September to finally get our hands on this beast. The outgoing L200 has been on the market for four years and – although an undisputed triumph – it has been criticized by some for its softer, more feminine looks when compared to more rugged rivals.
To address this, a radical new face on this new L200 from Mitsubishi incorporates their 'dynamic shield' grille design – a theme that's gradually appeared on all its SUVs from the ASX to the Shogun Sport.
3. The New Jeep Gladiator

Release Date: US Late 2019, Europe Early 2020
Price: TBA
Jeep's brand new pick-up was revealed at the LA auto show at the end of last year. The reveal wasn't a huge surprise due to sleuths taking photos and discussing it on forums all over the internet. The only thing that was a surprise was the name, previously referred to as the Jeep Scrambler, the new pick-up was revealed with a new name…The Jeep Gladiator.
The Gladiator takes a lot of design notes from the Jeep Wrangler, including the headlights and front grille, it does feature extra ventilation compared to the Wrangler, to help with towing
4. Renault Alaskan

Release Date: TBC
Price: TBA (Similar to Navara Models)
Completing the trifecta of the Nissan-Mercedes-Renault partnership, the new Alaskan is based upon the same underpinnings as both the Nissan Navara & Mercedes X-Class. It is unclear yet as to where the Alaskan will sit in terms of spec and pricing when compared to its platform siblings.
What is known however is two versions of the same 2.3-litre turbodiesel will be offered, with either 158 or 187bhp, and come paired with a six-speed manual or a seven-speed automatic gearbox. Every Alaskan can tow a braked trailer of up to 3,500kg and comes with selectable four-wheel drive.
5. Land Rover Defender

Release Date: Production Expected To Start Late 2019
Price: TBA
Although technically not a pickup truck, after a three-year absence from the market, Land Rover confirmed that an all-new Defender will be coming for 2019. Although the new model is swaying more towards to mainstream volume customers, VAT-deductible commercial variants – like a pickup truck and two-seater van – are still expected to make up a huge proportion of sales. That's assuming customers haven't moved onto other 4×4 vehicle options as an alternative to the Land Rover.
Since the incident with Jiangling Motors, in which the Chinese company copied the design of the Range Rover Evoque, Land Rover has been very secretive about previewing future vehicles and the Defender is no exception. No official images have been shared, although small details have been leaked.