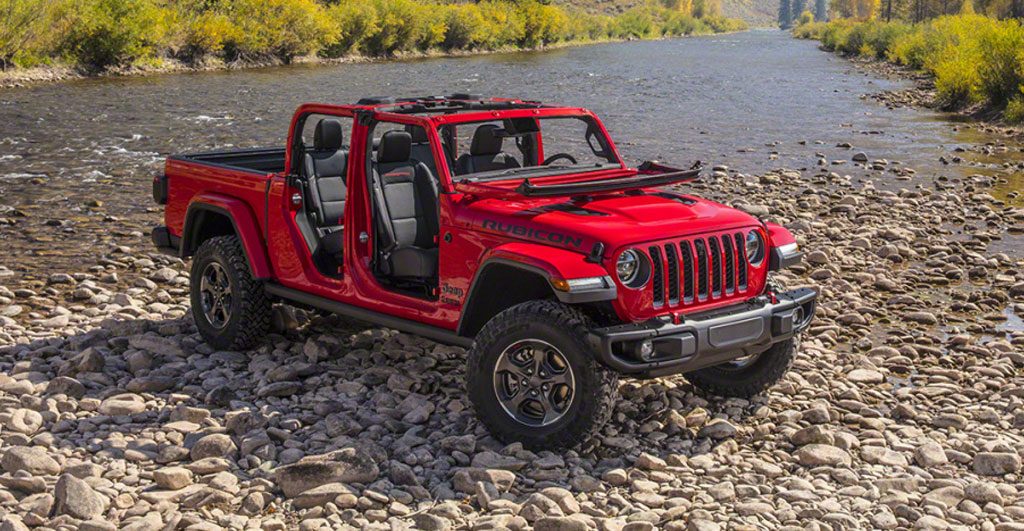 The new Jeep pick-up was finally revealed at the LA auto show. The reveal wasn't a huge surprise due to sleuths taking photos and discussing it on forums all over the internet. The only thing that was a surprise was the name, previously referred to as the Jeep Scrambler, the new pick-up was revealed with a new name…The Jeep Gladiator.
The Gladiator was designed to meet the needs of the North American pick-up market, where it will go on sale next year. It is currently unknown as to whether or not it will be coming to Europe.

The Gladiator takes a lot of design notes from the Jeep Wrangler, including the headlights and front grille, it does feature extra ventilation compared to the Wrangler, to help with towing. The pick-up can carry loads of up to 725kg and has the towing capacity of 4370kg.  The Gladiator also features the same body-on-frame chassis design as the Wrangler but with an extended load bed area added to the rear. Removable side doors and roof were expected for the new Jeep pick-up and we definitely weren't disappointed to see that functionality in the reveal.
Initially the new Gladiator will only be available with a 3.6 litre V6 petrol engine but from 2020 there will be the option to have the 3.0 litre V6 diesel engine. They will be available with either eight speed automatic or six speed manual gearboxes.
The interior of the new Gladiator features LED information displays (up to 7 inches in size). The interior also features a smartphone compatible touchscreen system (up to 8.4 inches in size) and a number of USB and power sockets.

The Gladiator is expected to go on sale in the second quarter of 2019. Pricing hasn't been announced yet. More information on the new pick-up is likely to come out in the next few months.