EUROPE'S LEADING DISTRIBUTOR OF CANOPY HARDTOPS, LOAD BED COVERS AND 4X4 ACCESSORIES & TYRES FOR 4X4'S AND PICKUP TRUCKS
Hard Tri Folding Tonneau Cover
Three pre-set rest positions
Weatherproof design
Seamless exterior finish
3 Year Warranty
Easy fit with pictorial instruction guide
Approved and Fitted by Mitsubishi/Toyota/Ford/Isuzu
Our hard folding pick up tonneau covers reduces drag caused by driving with an open truck bed, the taught finish of the pick up tonneau means water will not pool on the top. The cover features a composite ABS hard plastic underside that gives it strength and rigidity whilst the mohair style fabric provides a plush high end look that satisfies even the most discerning pick up truck owner.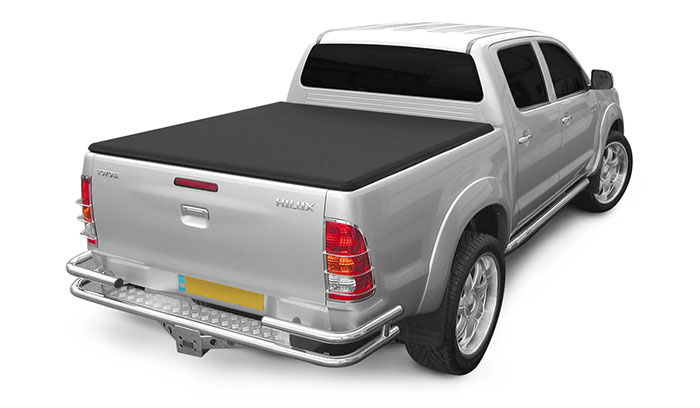 Manufactured From Strong & Resilient Materials
The Mohair fabric on the covers is a automotive grade that is approved by car makers across the USA, it is similar in appearance to car soft tops such as will be found on many Germany car makers soft top cars.
The Fabric is strong, resilient, waterproof and UV protected to prevent fading. If required the cover can be secured in the open position using two straps which allows the truck to be driven with the cover open at full speed.
Fitted And Removed In Minutes
The covers come completely assembled, so you don't have to contend with any loose parts. Its hinged, folding sections make it extremely versatile just remove the cover when toting larger loads or fold it down to lock in place for smaller loads.
The covers can be fitted in minutes and can be removed in no time when you need to use the whole bed. You can even drive around with the back part open. It uses clips that go under the inside of the bed. That are attached to a steel, frame for additional strength to the load bed