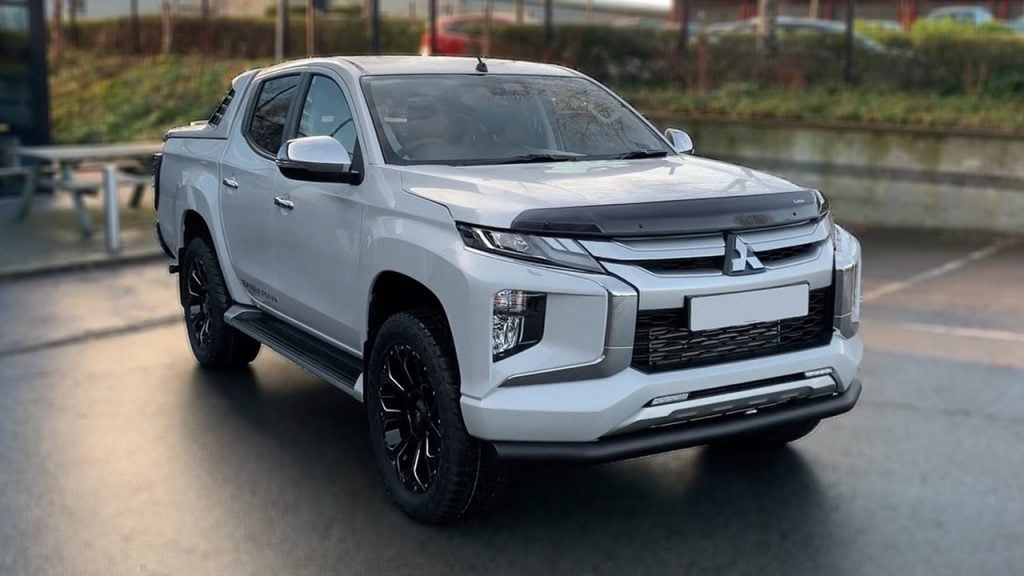 February 2020 update – Let me take you on a walkaround tour of the all new Series 6 Mitsubishi L200, accessorised by us here at 4×4 Accessories and Tyres.
We've just put up a video (filming and commentary by yours truly, with help from my glamourous assistant, thanks Holly) with some of our new custom accessories available for a classic and deservedly popular vehicle, the Mitsubishi L200 (Series 6). If you want to take a first look at some of our new products available for this model you can watch it here:
These custom accessories – all available from us here at 4x4AT – not only improve the safety and durability of your L200, but enhance its use and of course, make it look pretty damn amazing too. The car showcased in the video is the Double Cab Barbarian model in Pearlescent White, which matches very well with the black alloys and other accessories we've fitted to it.
First, we have a black spoiler bar at the front end which sits neatly underneath the front bumper. We've teamed this up with a Dark Smoke Bonnet guard – which gives protection against stone chips and general impact damage. This is designed really well and looks very sleek on the bonnet, giving the car a definite edge of coolness! We've added two extra driving lights (available soon) at the front as well – for increased visibility.
Moving around the car, your eyes will be immediately drawn to the stylish Predator brand new Coyote 20" gloss black alloy wheels – Predator is 4X4AT's own premium accessory brand. As you'll see in the video, they look fantastic on the car and really do it justice as well as adding a nice balance to the whole set up. They can be ordered in matt or gloss black and the lacquer top coat protects against road salts and weather conditions.
On the back we've fitted an Alpha SC-Z tonneau load bed cover. These units are one of our biggest sellers across all models, with a proven track record; it's an Alpha product so you know it is very good quality. Its lifts using gas-propelled struts – easily done with one hand – with an interior light and carpeted finish, giving it a smart look. These can be colour matched to OE paint colours and open with the car's central locking using the car's fob.
When we lift the lid, inside is the bespoke Aeroklas two drawer system. For extra storage which is practical, secure and an efficient use of space, consider these heavy-duty storage drawers. Custom designed for this vehicle, they are lockable, can house up to 90kgs each which is almost twice as much as other manufacturer's products. Even when fully loaded, they pull out easily and cleanly. These are of great build quality and are a versatile and useful bit of kit.
To offer more protection to your vehicle, the video shows our Mitsubishi L200 Series 6 light guards and wheel arch kits in matt black finish. All easy to fit with no drilling required, they add a lot of styling to your car for not a lot of effort or cost.
When you add these accessories to this model, they really improve its road presence, and it looks much more modern too. This is a car which will stand out in any crowd or situation. It's a great vehicle which we predict will be a big success for Mitsubishi and us here at 4x4AT.
If you'd like any information about any of these products, or indeed any of our L200 accessories, and other 4×4 accessories, we'd be happy to help. Our showroom at Leeming Bar Industrial Estate is open from 8am to 5.30pm through the week and 9am to 2pm on Saturdays. Just give us a call at 01677 428799, email on sales@4x4at.com and of course more details are on our website.