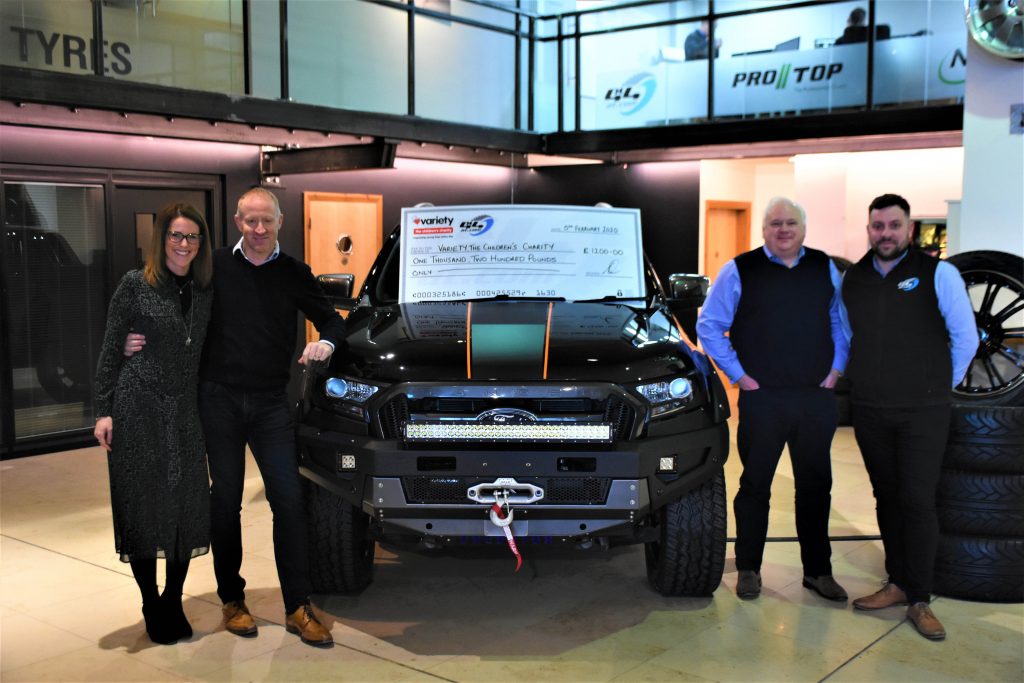 Team 4×4 has kindly donated £1200 to Variety, the Children's Charity after hearing a heart wrenching story during a recent charity event attended by Tim Snowden founder of 4×4 and Simon Rhodes who is the key accounts director of 4×4.
At the event Variety were looking for set pledges of £1,200 this is when Tim Snowden founder of 4×4 has generously agreed to donate in order to support young children who are in need.
In the UK there are more than 1.3 million disabled children and young people and nearly four million children living in poverty. Variety, the Children's Charity exists to improve the lives of these children. They provide practical, tangible help that makes an immediate difference to children, young people, parents, siblings and teachers.
Pictured from left to right you have Charlotte Farrington – Regional Development Director of Variety, the Children's Charity and Tim Snowden who is the Founder of 4×4 Accessories and Tyres & NLG Group. On the right side you have Simon Rhodes – Key Accounts Director and Matthew Gibson who is the Sales & Operations Manager at 4×4 Accessories & Tyres.
Charlotte Farrington, Regional Development Manager for Variety Yorkshire, said: "We are so grateful to Tim and 4x4AT for the very generous donation made at the charity's event earlier this year. The funds will go towards the children who are in need. Without the support of local companies such as 4×4 Accessories and Tyres our mission would simply be impossible."
For more information on the great work that the Variety children's charity is doing, you can visit their website https://www.variety.org.uk/what-we-do