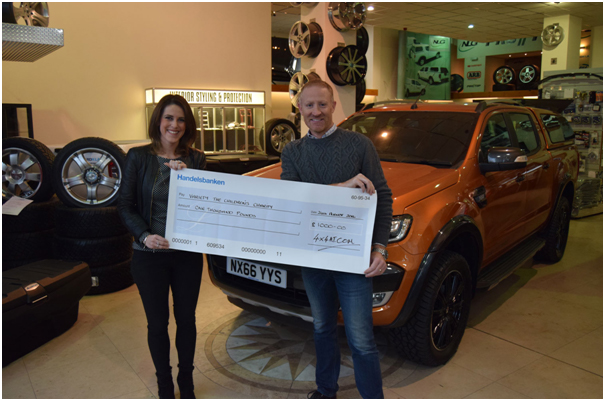 Just beside the A1M at Leeming Bar, you may have noticed the massive 4x4AT sign on the building bordering the motorway. This is the home of 4×4 Accessories and Tyres (4x4AT). Over the years this sign has become a notable reference point for those travelling both north and south.
4x4AT is now Europe's leading supplier of 4×4 accessories for all types of pickup trucks in this increasingly popular sector. From humble beginnings, 23 years ago in Ripon, 4x4AT has consistently grown year on year to be the market leader it is today – a real home-grown Yorkshire success story that now competes successfully on the world stage.
Quite apart from serving the public from their Leeming Bar showroom with their 4×4 pickup accessory needs, and together with the 4x4AT website itself, the company now even supplies accessories to the pickup truck manufacturers themselves, as well as the trade at all levels.
As a local company, it is, therefore, gratifying that 4x4AT have felt able to give something back by supporting the local branch of a charity that is helping Yorkshire children through Harrogate Hospital.
Charlotte Farrington, Regional Development Manager for Variety Yorkshire, said: "We are so grateful to Tim and 4x4AT for the very generous donation made at the charity's Crystal Ball early this year. The funds will go towards the refurbishment of the children's Paediatric outpatient Department at Harrogate Hospital, which is visited by over 12,000 poorly children each year. Without the support of local companies such as 4×4 Accessories and Tyres our target of £35,000 would simply be impossible."
Last year Variety held a special weekend event, a team clay shoot and lunch on Friday, followed by a ball and dinner on Saturday, raising £68,685 over the course of the two days.
All funds raised have gone towards the Rainbow Fund, funding a transport incubator for the special care baby unit at Harrogate Hospital, the essential refurbishment of the Paediatric Outpatient Department and a Variety Sunshine Coach for Forest School in Knaresborough.
For more information on the great work that the Variety children's charity is doing, you can visit their website – https://www.variety.org.uk.