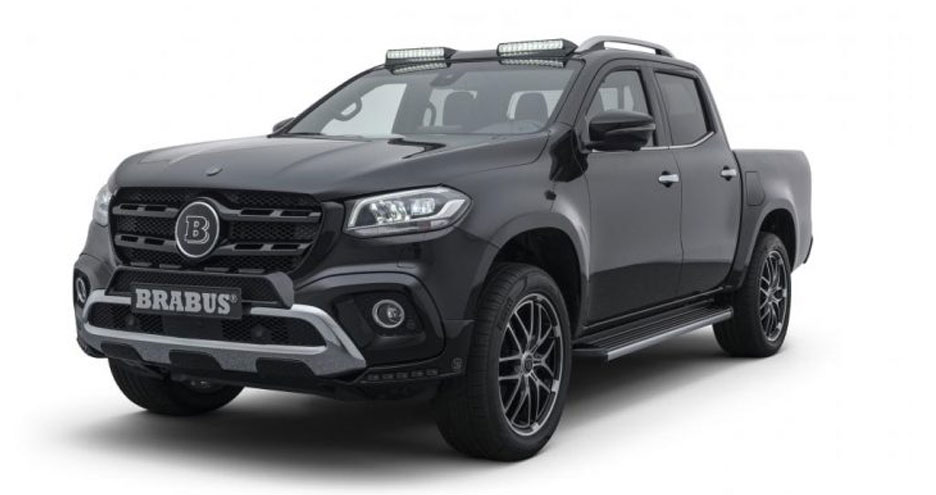 Brabus has got its hands on the latest Mercedes Benz X-Class has is offering the 'D4 PowerXtra performance upgrade'. It offers more power, specification, 20 inch wheels instead of the 17/18 inch on the standard X-Class and quadruple exhaust pipes!
It includes an original grille featuring their logo and the mount for the front number plate. There is a pair of LED light bars which are fitted to the roof and engage on full beam.
The internal styling comes with aluminum pedals, new door sill design and Brabus badges.
Brabus has altered the 250's ECU to extract an extra 20bhp from the 2.3-litre turbodiesel engine. A total of 208bhp the 11.5-second 0-62mph time is 0.3 seconds faster than the X 250 d – but peak torque has risen to 510Nm. That's a 60Nm improvement and one which will be most noticeable when towing or lifting heavy loads.
For those wishing for a little more power, Brabus will soon be working its magic on the soon-to-be-launched X 350d. With 254bhp and 550Nm as standard, it has the potential to be a seriously rapid workhorse.
Prices for the X-Class Brabus, based on the X250D, will start from around £42,000 plus VAT, an £8,000 premium on the base vehicle. But Brabus has already started work on the X350D, which is the 3.0-litre V6 variant available from September.
View our range of X-Class accessories here!