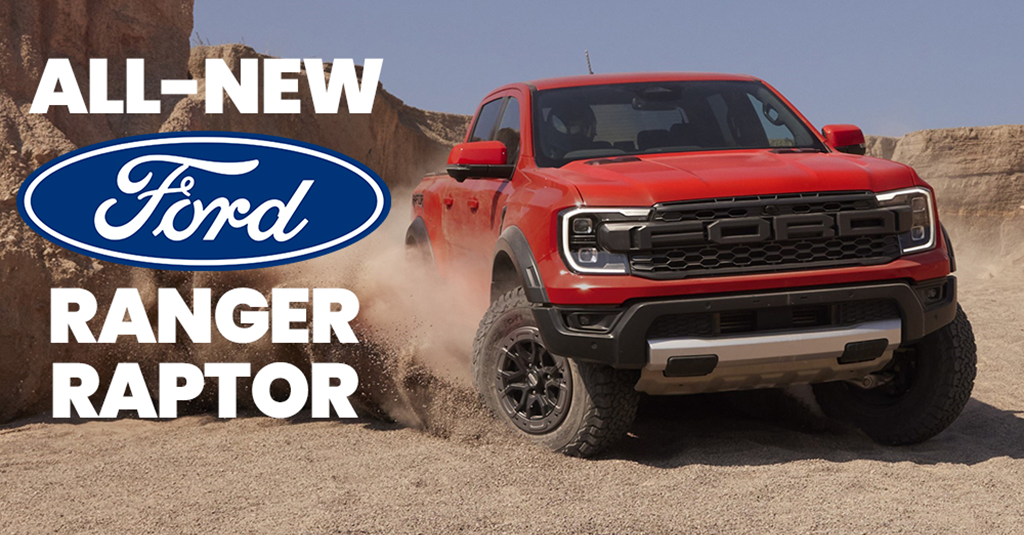 Ford Performance have released more details for the second generation all-new Ranger Raptor which will be the first next generation Ranger to land in Europe. They will be available in the last quarter of this year; although Ford has yet to announce any prices the base model is expected to be around the £50k mark.
Described as the ultimate pickup for off-road performance, the new Raptor boasts more power. The twin turbo petrol 3 litre EcoBoost V6 engine is housed in a graphite-iron cylinder block (much stronger and stiffer). This beast kicks out 284bhp with 361lb of torque … harnessing, placing and then flaunting that enhanced power is what the rest of the truck is all about.
The 10-speed auto gear box remains and drivers can choose between 4 engine sound profiles – select 'Quiet' in the morning to keep the peace with the neighbours, then there's 'Normal', 'Sport' … or pick 'Baja' for the full top-end throaty experience. A diesel engine option is expected next year.
New chassis and suspension features are there to cope with the extra power. Strengthened upper and lower control arms and 2.5" premium shock absorbers give more control over difficult terrain, improving stability and avoiding bottoming out.
There are seven drive modes – three for on-road driving and a further four designed for off-road conditions. A new off-road drive mode – 'Baja' – assists off roading, giving peak performance at higher speeds and no doubt the most excitement. A 'Trail control' option works like a cruise control setting for tough off-roading at speeds below 20mph – the Raptor takes care of acceleration and braking so the driver can concentrate on steering. This Raptor is a full time 4WDer.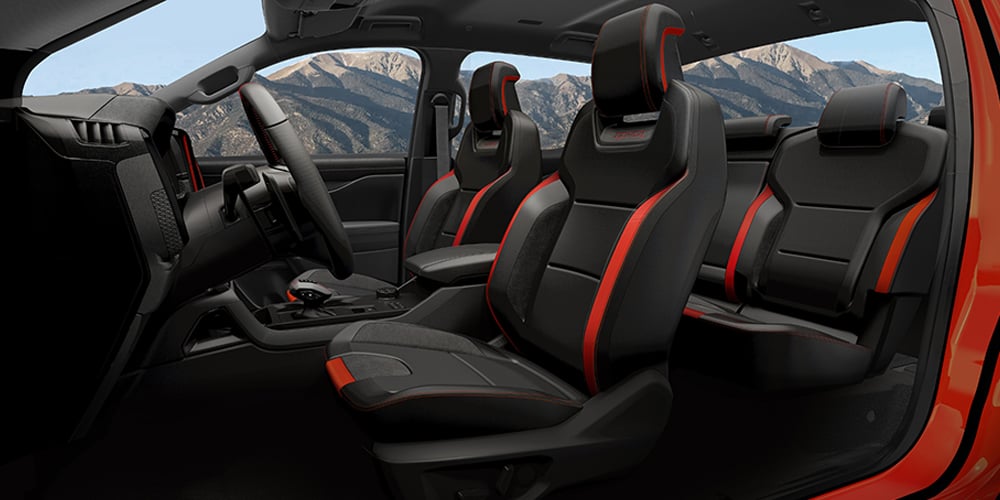 Underbody protection is beefed up, with a larger front skid plate of 2.3mm steel (in fact, almost twice the size of the Ranger's version) which protects the radiator, the sump and front diff. The revamped cab is particularly striking – Ford are said to have taken inspiration from jet fighters for the sports style seats, and the whole interior is perked up with orange (Code Orange) contrast trim and accents. Ambient lighting gives an amber warmth; the B&O music system has 10 speakers. A 12" touchscreen offers wireless Apple and Android connectivity as standard, and behind the heated leather steering wheel there's an impressive similar sized digital dashboard.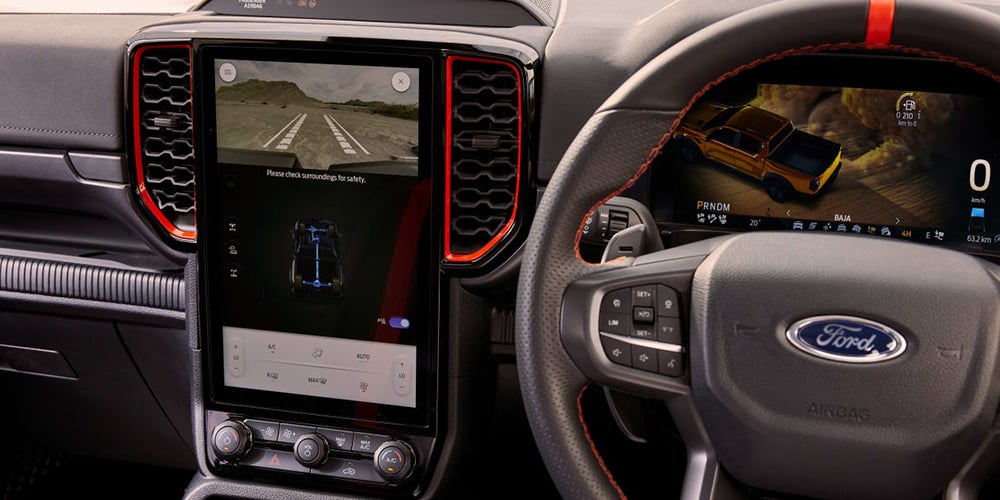 The sheer size and width of this beast will turn heads before anything else registers – the body modifications are all about flexing visual muscle. Flared wheel arches house 17" alloy wheels add width along the sides …  C clamp headlights and huge FORD lettering add more stature to the front grille area.
From any angle, the new Ford Ranger Raptor exudes power, energy and a larger-than-life presence. It promises to be a thrilling drive in any environment and at 4x4AT, we can't wait to get our hands on one. We will also be stocking a full range of accessories and updates for this Raptor once it is released … watch this space!