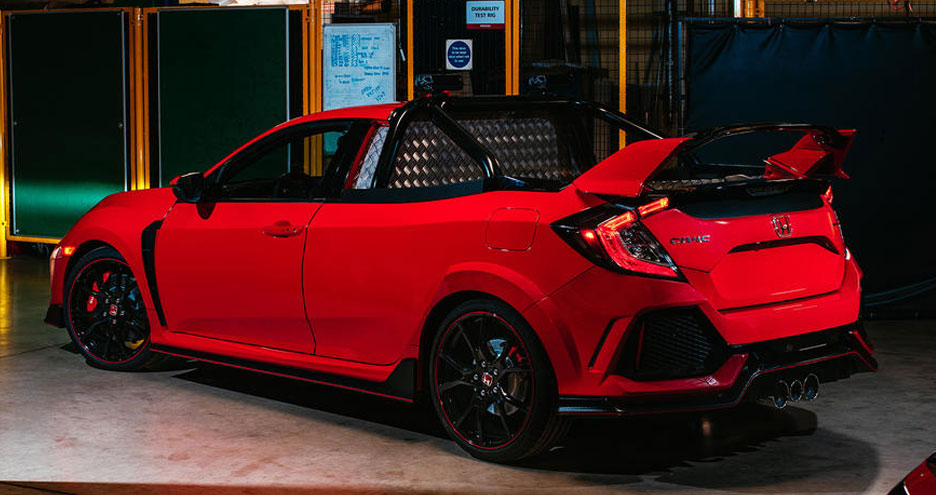 Honda UK showcased this pick-up concept at the annual Society of Motor Manufacturers and Traders test day. Codenamed 'Project P', the Type R has been developed and modified from the standard road car.
The one-off pick-up was created by a team of 12 specialists at Honda's Swindon factory from a regular Type R hatchback by adapting the design rearwards, with a flatbed loading area in the centre of the car where the rear seats and boot space would normally be with an upward-opening tailgate allowing access to the load area. The Civic Type R's not insubstantial rear wing has been altered so it can be moved to allow better access to the truck bed.
Using the same powertrain, suspension and gearbox as the standard road car, it is estimated the Project P concept vehicle will complete the 0-62mph sprint in under six seconds and reach a top speed of over 165mph.
Alyn James, project lead, said:  "The passion that our engineers have for Honda is shown in our latest creation and we are even considering taking it to the Nurburgring to see if we can take the record for the fastest front-wheel-drive pick-up truck."
Phil Webb, head of car at Honda UK, added: "There are no plans to put this into production but we will be using it to transport our lawn and garden products as and when required!"