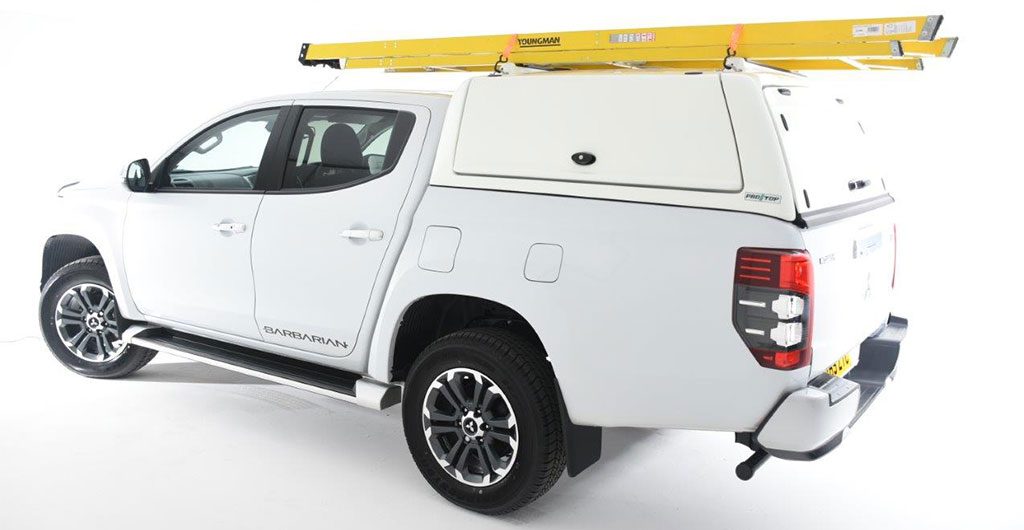 Pro//Top commercial hardtops are designed specifically for the hard-working truck and offers large volume users a durable, well-priced, gloss white low-maintenance hard top canopy. These are now in stock and available for the brand-new Mitsubishi L200 Series 6 pickup truck.
Pro//Top are tough, hardworking truck top canopies that are as well suited to the individual professional as they are to the large fleet operators. These commercial canopies are designed and built to take some punishment, but nonetheless we support them completely with Pro//Top spare parts available from stock at sensible pricing.
The Pro//Top Low Roof Gull-Wing Canopy has the option of either a high-security solid or a tinted glass rear door and both are available.
Key Features Of The Mitsubishi L200 Pro//Top Commercial Gullwing Canopy:
Large side-opening gull-wing side doors – All fitted with stainless steel locks, hinges and strikers to ensure corrosion-free durability.
A paint-matched white exterior finish (Colour-coding option available)
Painted white interior – Offers a bright luminous finish and excellent light reflectivity.
LED Battery operated interior light (Additional LED lighting available as an option)
Built in roof carrying system – Twin horizontal supports carry up to  100kgs of pay load.
Stainless Steel tie-hooks – Lash down loads with our stainless-steel fitting points.
Stainless Steel Hardware used throughout
Eliminate downtime by buying the best in quality, fit and durability.
Pro//Top hardtop canopies are a fantastic addition to any pickup truck and are as hard-working as you are. To see our full range of Pro//Top canopies, including the new Mitsubishi L200 Series 6, make sure to head over to our website.