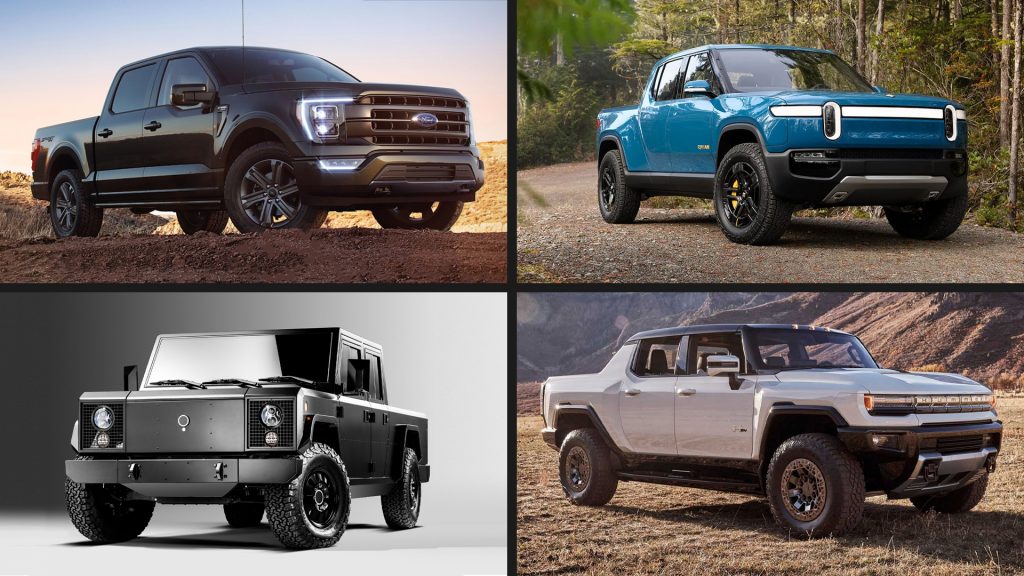 Unless you've been living under a rock for quite a few years, you are probably aware of the revolution taking place in the automotive industry at the moment, as manufacturers scramble to bring to market electric vehicles which tick all the boxes.
Technological advances have made these visions into viable realities, and vast improvements in efficiency, towing capacity and torque amounts have got everyone excited. Whilst the focus may have been on developing passenger road cars initially, there is a great demand in the US for a workable electric pick up for the farming states … which will be fulfilled. Here is a quick look at the models in development and… coming soon!
Ford All-Electric F-150
One of the world's biggest-selling pickup models, the F-150 is busy being reinvented as an all-electric version. The big splash launch event back in 2019 demonstrated an insane towing capacity of 1.25 million pounds … as one All-Electric F-150 pickup prototype pulled railway freight carriages loaded with 42 of the regular F-150s in a video that Ford released. Whether or not this will be reproduced in the available model, will have to be seen! (Don't bet on it. Please).
Since this initial hyperbole, the date of launch has been set back from 2021 to 2022, with a hybrid version due to be in production and on the streets before the All-Electric. When this is available on sale, we will of course be showcasing a range of bespoke accessories and products for it, as it is expected to be an exceptionally good seller.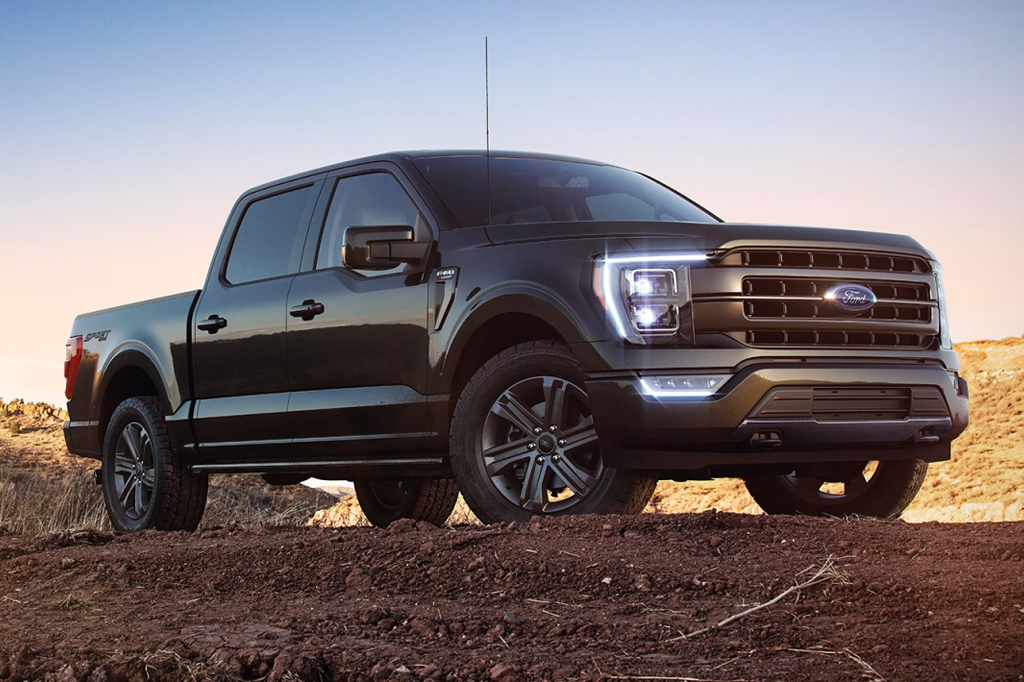 Tesla Cybertruck
OK … confession time. We love this. Tesla's Cybertruck is completely mad (perhaps a little like Elon himself) but wow … look at it! Batman would be proud to take this for a whirl, and we can't help thinking that's where the rumour about it being totally bulletproof originated. It is Back to the Future surreal realism … coming soon.
A stainless-steel exoskeleton combined with 'Armour Glass' (which may need a little more work yet) comes with one of three powertrains: single motor + rear wheel drive, dual motor + all-wheel drive or tri-motor + all-wheel drive. It will boast a massive payload area and a huge (and as yet unreleased) amount of torque.
Despite it being hard to believe at this point, the existence of this pickup is not a fantasy, and it is due for production in late 2021/early 2022. Deposits are being taken now for orders – only £100 to hold your place in the queue. Perhaps the hardest part to swallow is the projected cost: £21,000 for the base model sounds extremely optimistic.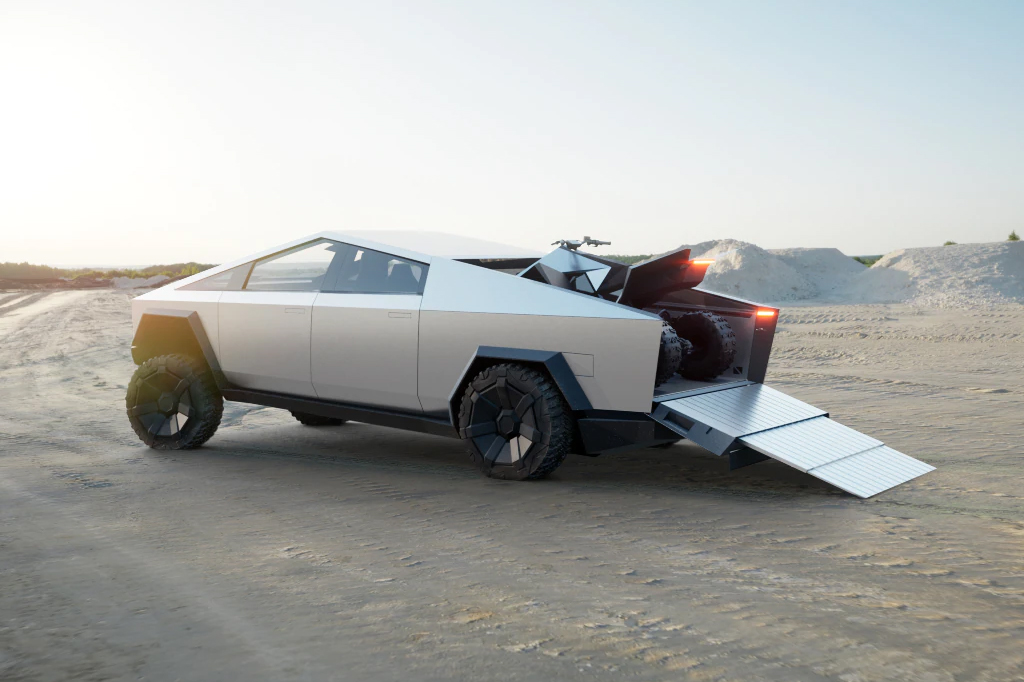 Bollinger B2
In contrast to the sleek sci-fi shape of the Tesla, Bollinger (who are based in Detroit) are dispensing with any frivolity about luxury looks and stripping down their B2 to utilitarian sturdiness. Described by them as 'The world's most capable pickup truck' and by others as a 'monster of a road tank', it is due in production in the middle of this year.
This will please buyers looking for a very solid no-nonsense vehicle and who perhaps have a soft spot for Land Rovers, and jet washing their truck interiors. Its strength and power figures are amazing, but the price to pay is the expected short life of the battery, quoted at around 300 miles. An adjustable suspension can switch between 10" and 20" of ground clearance.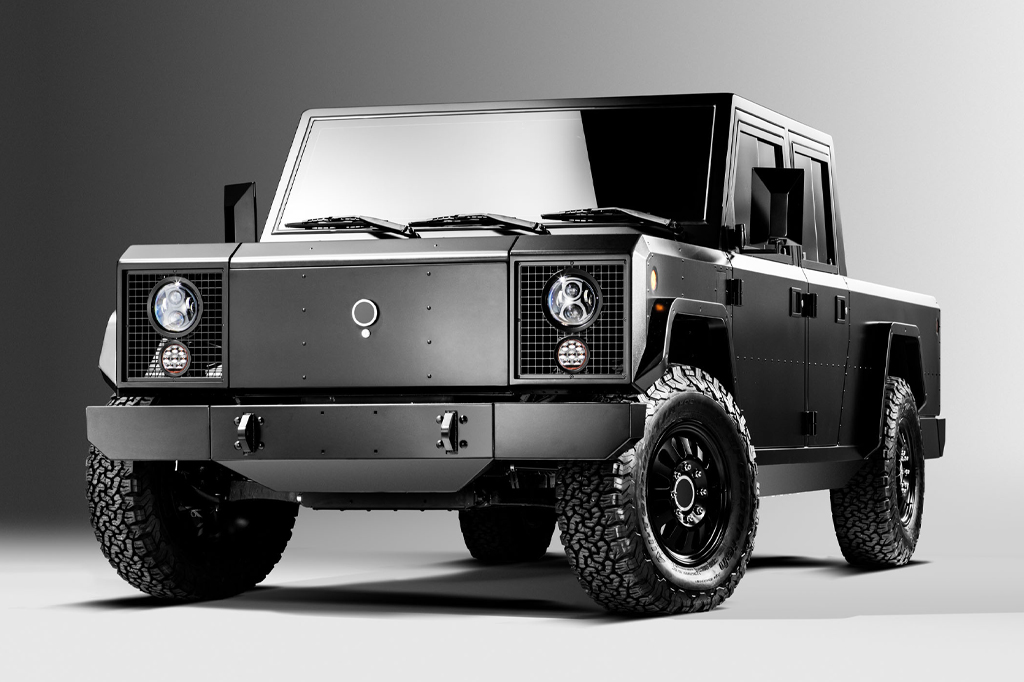 Rivian R1T
A 'disruptor' brand based in Illinois, Rivian is the manufacturer you may not have heard of previously. Founded by an ambitious 38-year-old, his bold ideas to produce all-electric utility vehicles which are also cool have attracted large investments from Ford and Amazon (the latter has ordered $5 billion's worth of electric vehicles from Rivian for their delivery fleet).
The R1T is the pickup version that is due in production in the States this year – the SUV is called the R1S. Expect both to appear in Europe as right-hand drive models around mid-2022. Styling (interior and exterior) is not outlandish but is certainly super smart and slick, which will attract a wide range of buyers and users. We look forward to hearing more from this new manufacturer and taking the R1T for a test drive.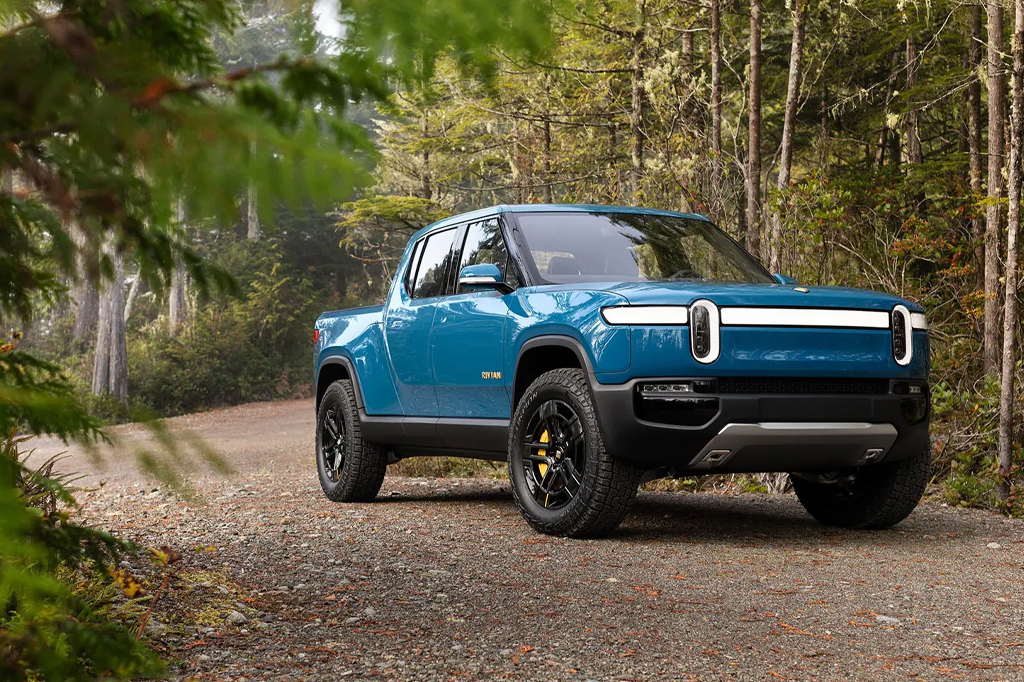 GMC Hummer EV
If you want to go large or go home … size up to a 'super truck' Hummer. Yes, an electric version of the American behemoth is due in production soon as a pickup and an SUV; the pickup will be out at the end of 2021 with the SUV pencilled in for 2023.
You may have opinions about the sheer size and over the top space age styling of this vehicle, but it can boast some impressive features. The pick version comes with a jaw-dropping 18 cameras which show the driver total surround and underbody vision for difficult terrain, 35" (or 37" aftermarket) specially engineered tyres and is capable of 0-60mph in 3 seconds.
The remarkable 'Crabwalk' function means it can tackle chewy off-roading slightly sideways – the rear wheels turn 10 degrees to traverse diagonally, giving superior grip and manoeuvrability. Watch the Crabwalk demo video here … it is pretty cool: https://www.gmc.com/electric/hummer-ev