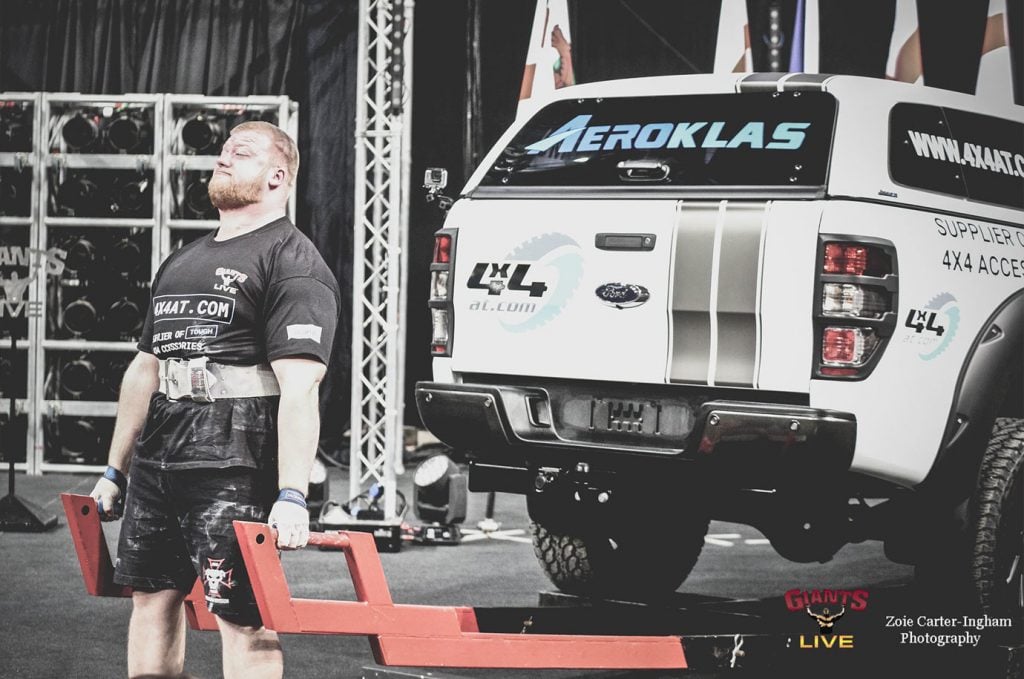 Paul Smith (Strong Man) is one of the UK's strongest men, he recently won the U23's World Championships and he won England's Strongest Man in 2016. At only 23 years old Paul is already making a huge impact in the world of strong men.
Fresh back from placing 5th at Britain's Strongest Man (BSM), Paul took time out of his busy schedule to talk to 4x4AT about what he thought of this year's BSM and where he saw his career going in the future.
4x4AT: You came 5th in BSM, it was in your home city of Sheffield. What difference did that make to you competing?
Paul: It was a new one for me, being in Sheffield. I have never done it before, I didn't feel pressure but I knew it would be good to have the crowd support and it was the biggest crowd I had ever competed in front of so it was pretty new in terms of how much support I was getting, it was really good. It definitely helped with my performance.
4x4AT: Some of the 4x4AT team were actually on the floor watching when you won the Hammer Hold event and the reaction from the arena was amazing.
Paul: It was pretty amazing, when I was getting towards a good time, the crowd was getting louder and louder. It was a pretty surreal experience, to be honest. It wasn't something I had ever experienced before.
4x4AT: It was the 4x4AT trucks that you deadlifted during the competition. The Ford Rangers were covered in the 4x4AT accessories. One of our staff members tried to lift the cradle without the truck on it and really, really struggled. You managed 9 reps of our truck, how did it feel?
Paul: Oh it was heavy, a lot of the time with car deadlifts like that you get an easy part and then the weight kicks in but with this truck the weight was straight in my hands. It was probably one of the heaviest things I have ever deadlifted. It nearly killed me getting 9 out, after the last one I was absolutely done.
4x4AT: Does it put perspective onto how good Eddie Hall is that he managed 15 reps?
Paul: Oh yeah, Eddie's best event is deadlift, he is the best in the world at it. It just shows a clear level between where I am and where he is. It is a nice target to chase now, a good benchmark.
4x4AT: You won England's Strongest Man 2016, The Ultimate Strongest Man Under 23 World Championships and you're only 23. What are your aims, goals and timescales going forward?
Paul: Getting Worlds Strongest Man. I am hoping to get a spot at World's Strongest Man (WSM) this year, so it will be good to get my eye in and have a good performance, get used to the format of WSM. Next year I am hoping to be making the finals at WSM and really starting pushing up towards the top spots.
4x4AT: As soon as next year?
Paul: Yes, the way progression is going I feel that I will be in with a chance of putting in a good performance and placing in the top 10.
4x4AT: In terms of training, you mix your training up a bit; it isn't always your conventional strong man training all the time?
Paul: I have done quite a lot of different sports in my background so my training is fairly varied. I like to keep it fairly interesting so I put all sorts of stuff in like cardio work, Olympic weight lifting, plyometrics, jumping and stuff like that, it keeps me well rounded.
4x4AT: It makes quite the difference. You have the likes of Mark Felix competing at 51 so realistically you have nearly 30 years of competing in front of you.
Paul: I can't see me competing at 50, I think Mark Felix is a bit of a one-off but definitely there should be 15 years ahead of me, hopefully, if I don't get injured or anything like that.
4x4AT: Brilliant. Finally now Paul, we are a motor industry business so I have to ask this question. What car do you drive?
Paul: I don't actually drive at the moment, I actually have my driving test next month.
4x4AT: Good luck with that Paul and thank you for taking the time to talk to us in this interview.
You can watch Paul Smith and the rest of this year's athletes performing at Britain's Strongest Man on TV later this year.
You can see products from our sponsors below: