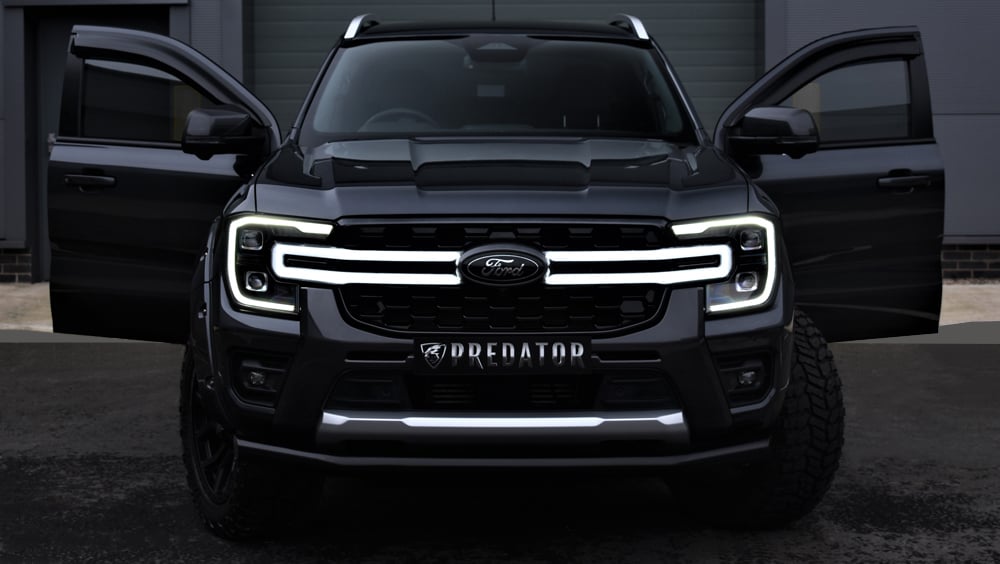 How are you guaranteed to make an entrance in your brand-new, next-gen Ford Ranger? Answer, fit the Predator Night Hawk LED Grille integration kit. This impressive new aftermarket styling and lighting upgrade will certainly enhance the look and personality of your Ford Ranger, making it stand out, whether on the road or off the beaten track.
The Predator Night Hawk LED Grille features an aggressive design that perfectly complements the rugged and powerful appearance of the next-generation of Ranger. The grille is made from high-quality materials, ensuring that it will withstand the toughest driving conditions and last for years to come.
The DRL on the grille with sweeping pattern function adds an extra layer of functionality, providing increased visibility and safety while driving at night. The bright LED lights provide excellent illumination, making it easier to see and avoid any obstacles in your path. This is especially useful for off-road enthusiasts who often drive in low-light conditions.
One of the best things about the Predator Night Hawk LED Grille is that it seamlessly integrates with your Ford Ranger. The grille is designed to fit perfectly, and look like it came straight from the factory. The installation process is simple and straightforward; just remove the stock grille then upgrade to the Night Hawk.
The grille is available in two finishes, matt black and gloss Black. Both look great on the Ford Ranger and give the pickup a bold and aggressive look. Whether you're cruising around town or heading to the hills, the Night Hawk grille is sure to turn heads, ensuring your Ford Ranger stand out from the crowd.
An outstandingly stylish accessory for anyone looking to enhance the look and functionality of their 2023- Ford Ranger. With its high-quality construction, ease of installation, and impressive LED lighting, this grille is a must-have for any Ford Ranger owner. So why wait? Upgrade your Ford Ranger with the Predator Night Hawk LED Grille today and you're guaranteed to make an entrance!