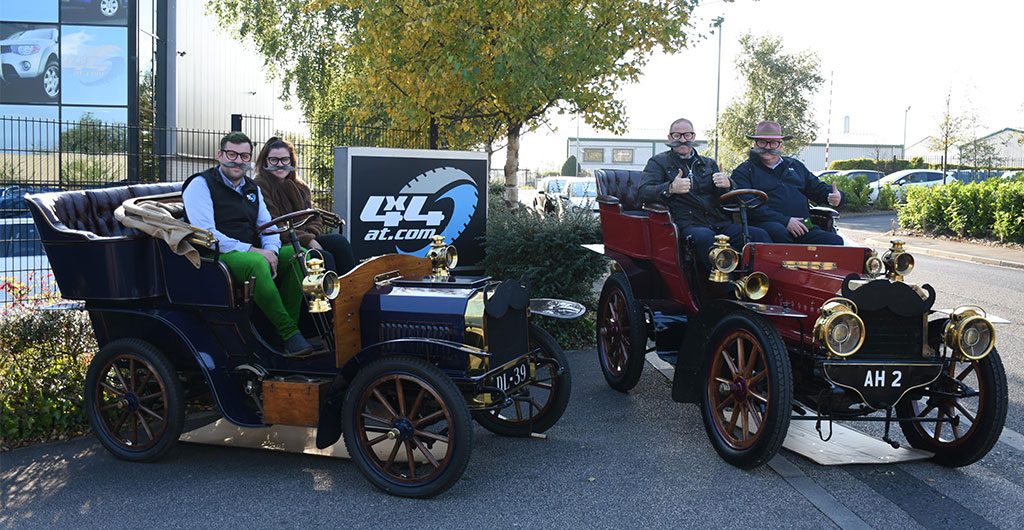 On Sunday 3rd November our team of three took part in the London – Brighton Veteran Car Run for classic cars made pre 31/12/1904.
Our transport was the sole surviving 115-year-old 1904 8.5hp twin cylinder Humber. The 4-seater was made in Nottingham in 1904 and was provided and prepared for our use free of charge by Tim Snowden, in aid of the Movember men's health awareness campaign. We feel this is a very good cause and are proud to be supporting it again in 2019 after 4x4AT's Movember participation last year.
Up for auction was a seat to travel to Brighton in the world's last surviving 8.5hp Humber driven by Matt Gibson, Sales Manager of 4x4at.com and Co-piloted by Simon Rhodes, Key Accounts Director of NLG UK.
Read on to find out how the events of the weekend unfolded for these historic vintage cars that had gathered in London in support of Movember.
Key Facts About The London To Brighton Veteran Car Run
The London – Brighton Run was first held in 1896 to celebrate the abolition of the Red Flag act – Where a car had to be proceeded by a man waiving a red flag and the speed was not legally allowed to exceed 4mph
The first run had c. 20 leading motoring pioneers – Some cheated and loaded their cars on to the train to Brighton instead of risking the drive
It's the world's oldest still running motoring event which is run annually on the first weekend in November
Distance is 60 miles from London – Brighton
Participants c. 450 cars
Oldest car c. 1895 – Youngest car 1904 and that still makes it 115 years old!
Power – Cars can the Petrol, Steam or Electric
Start point – The Serpentine – Hyde Park, London
Finish point – Madeira Drive – Brighton
The bidding for the seat as a passenger was made over on the "Going Gone" auction page (Please note, the auction was not run by 4x4AT / NLG UK)
Ahead of the closing of the bidding, we provided a taster of what this event is all about and what you could be bidding to be a part of. In the video below shows some highlights of the London To Brighton Classic Car Run from November 2018 which included several familiar faces such as Red Bull's Christian Horner and TV Presenter, Alan Titchmarsh.
The Regent Street Motor Show
The day before the Veteran Car Run, our 1904 Humber could also be seen up close along with c. 100 other classic cars at a static display as part of The Regent Street Motor Show. The event was free for the public to attend, with fun for all the family as 125 years of motoring is showcased, all in one place.
It was held on Regent Street in Central London on Saturday 2nd November from 9-4pm. It was great to see so many people of all ages coming out to see all these magnificent vintage cars of all types that would be taking part in the journey to Brighton. Our driving team of Matt and Simon were there to meet and talk with attendees at this fabulous event. And of course those people also got to take a good look at our the 1904 Humber up close for themselves and take some photos of this piece of history.
There were also many other cars on display from all eras of motoring. So if you missed out on this chance to see all these cars up close for yourself this year, be sure to check it out next year!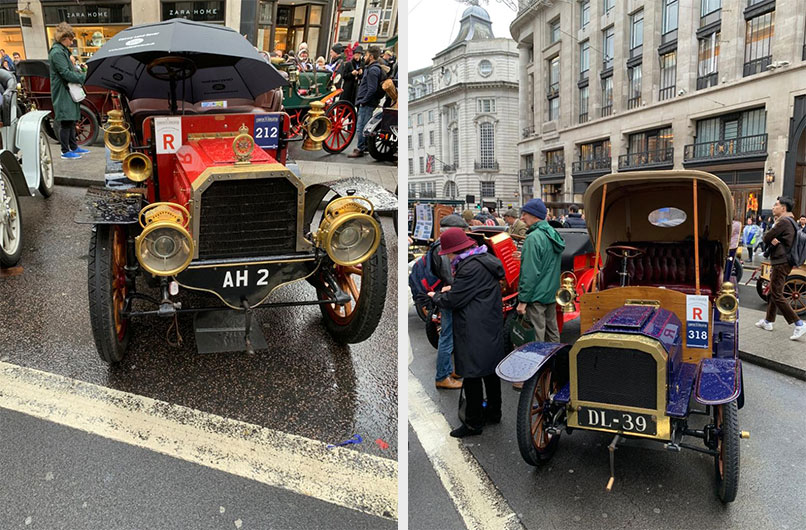 The Tearing Of The Red Flag
While at the event our team where lucky enough to witness the 'Tearing Of The Flag' by special guest Alan Titchmarsh. The tearing of the flag is to signify the abolition of the Locomotive acts introduced in the late 1800's.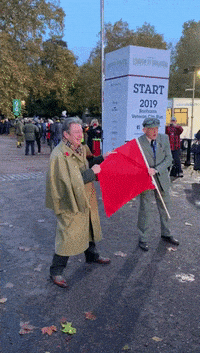 The Locomotive Acts, commonly known as the 'Red Flag Acts', were laws in the United Kingdom and the United States enacted in the late 19th century, requiring drivers of early automobiles to take certain safety precautions, including waving a red flag in front of the vehicle as a warning.
In the United Kingdom, the Locomotive Acts was a policy requiring self-propelled vehicles to be led by a pedestrian waving a red flag or carrying a lantern to warn bystanders of the vehicle's approach.
Summary of London to Brighton Veteran Car Run 2019
"Team 4x4AT" were also very proud to have raised a whopping £480.00 for the Movember Charity, thanks to the generous auction bid / donation from Graeme Smith who also joined both Matt and Simon for the journey to Brighton!