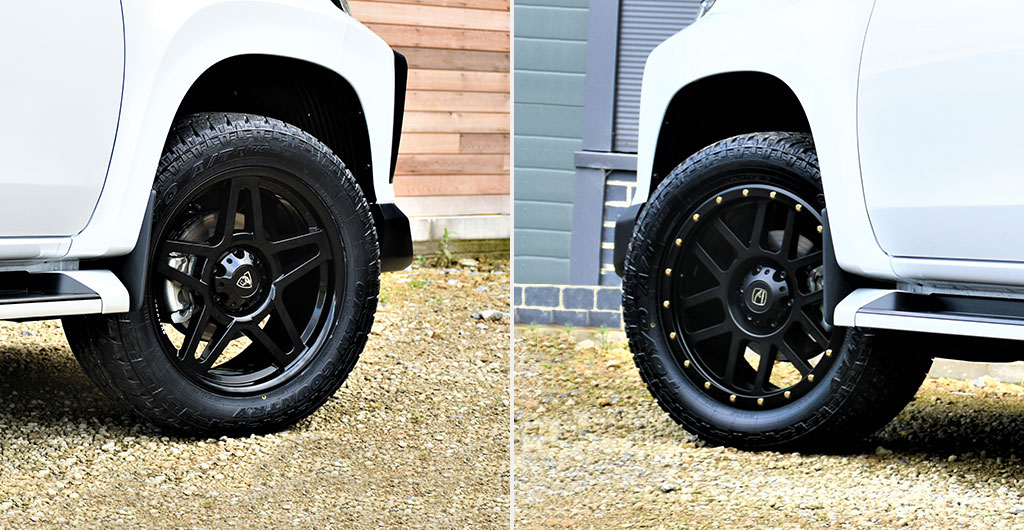 Lucky enough to own a New Mitsubishi L200 Series 6? If so, we have a great choice of 'Black Edition' L200 Series 6 Predator Alloys. Available in both 18 and 20-inch sizes, the Black coloured alloys look awesome on the new Series 6. There are five styles available in 20-inch alone, but we thought we'd show off some of our favourite designs:
The 20×9 Fox alloys by Predator in Lustrous Black
The 20×9 Dakar alloys by Predator in Satin Black
Make sure to check out the full range of Predator Alloys for the Series 6 L200 on our website!
These wheels have been designed exclusively for us by Predator to fit the Mitsubishi L200 and are made by low pressure casting in a TUV environment to JWL & JWL2 Standards. This means is that you are getting the highest possible quality from a wheel that was engineered specifically to handle the rugged 4×4 life. It is also a product you can rely on in terms of engineering strength, durability and finish.
With a wider track, Predator alloys will give you improved grip and road holding. This will help to maximise the usability and functionality of your vehicle by enhancing traction and providing a more hard-bodied stance.
Note: Fitting these wheels also requires one of our Mitsubishi L200 X-treme wheel arch extension kits.
These kits both use the standard fitment points and re-use standard mud-flaps meaning they are easily installed. We also have a range of on-road and off-road aggressive all-terrain style tyres to fit these wheels.
Visit our new Predator website and explore our range of bespoke Predator alloys!