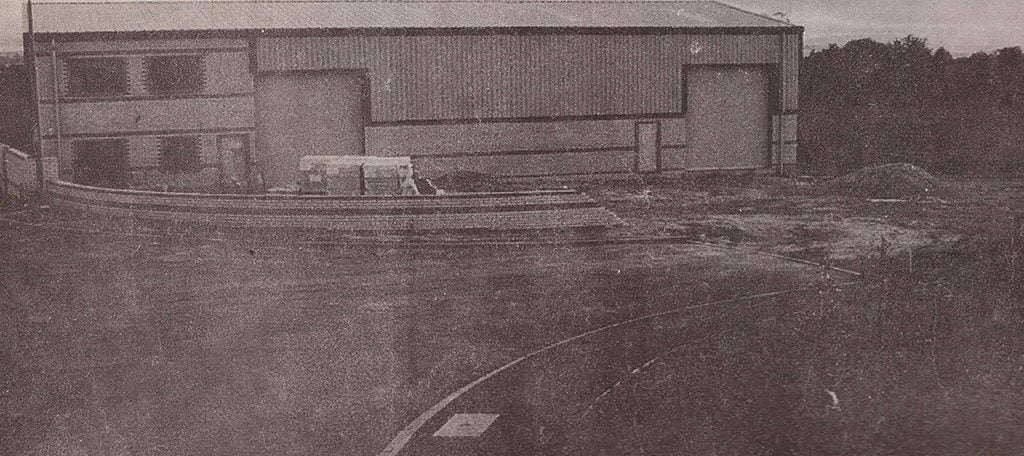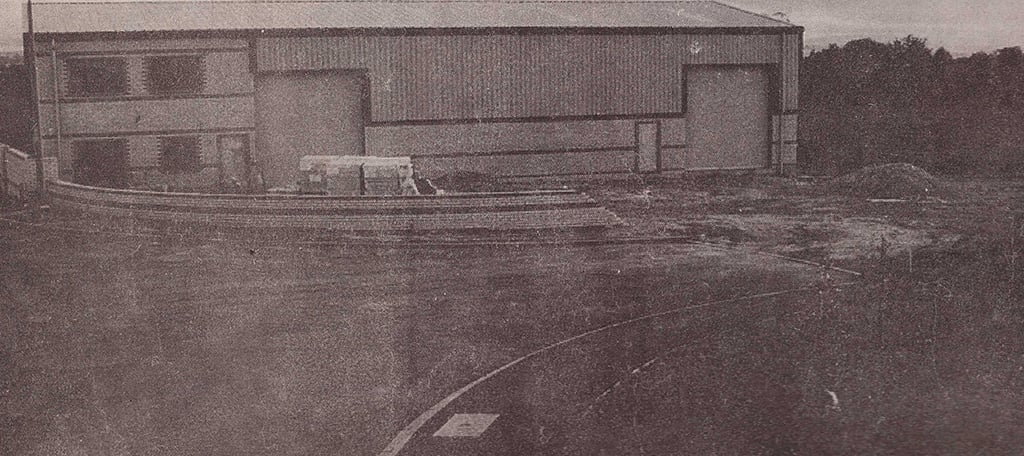 A great number of people, especially in business are only concerned with moving forward, and while that is vitally important, sometimes it's good to take a step back and appreciate how far you've come from your early beginnings.
With that in mind, here's a newspaper article reporting news of our move from 4x4AT's first offices to the beginning of our current Leeming Bar facilities.
"Kings Of The 4×4!" Newspaper Article – June 25th 1999
A Ripon-based four-wheel-drive accessory firm has proved such a success story it has just moved to larger premises to cope with ever-increasing demand.
Northern 4×4 Accessories and Tyres has moved to new £250,000 purpose-built headquarters in Leeming Bar from the Dalamires Lane estate in Ripon.
The company latched on to the growing market in off-road vehicles and over the past five years built up an impressive empire boasting £300,000 worth of stock, three warehouses and six employees.
The new site can also accommodate new product lines to allow for further expansion.
Partners Tim Snowden and Mark Cuthbert are grateful for the help they received from Harrogate Business Development Centre and the part it played in their success.
Tim said: "The first year in business is quite daunting so it is good to know that help, support and advice are readily available. If you have a business query of any kind, they can always provide a solution or put forward further information about an independent body or organisation that can."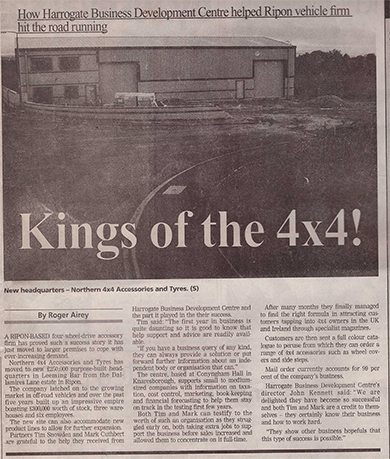 The centre, based at Conyngham Hall in Knaresborough, supports small to medium, sized companies with information in taxation, cost control, marketing, book-keeping and financial forecasting to help them stay on track in the testing first few years.
Both Tim and Mark can testify to the worth of such an organisation as they struggled early on, both taking extra jobs to support the business before sales increased and allowed them to concentrate on it full-time.
After many months they finally managed to find the right formula in attracting customers tapping into 4×4 owners in the UK and Ireland through specialist magazines.
Customers are then sent a full-colour catalogue to peruse from which they can order a range of 4×4 accessories such as wheel covers and side steps.
Mail order currently accounts for 99 percent of the company's business.
Harrogate Business Development Centre's director, John Kennett, said: "We are delighted they have become so successful and both Tim and Mark are a credit to themselves – they certainly know their business and how to work hard. They show other business hopefuls that this type of success is possible."
Summary
It's amazing how many things you can take away from a short article like this. From what was at the time, a big move from the original offices to the start of a long history here at Leeming Bar as our facilities expanded over time as the 4x4AT as a company grew.
There's a big lesson to any would-be entrepreneurs out there, it usually takes a huge amount of knowledge, effort and work to start and grow any successful business. Often it will involve working extra jobs in your spare time to help fund those early days of your company, but it's usually a worthwhile sacrifice to make if you can feasibly do it.
Finally, never under-estimate how the development of technology can change your business, even if your main products aren't directly technology-related. We were sending out paper catalogues and 99% of our business was mail order back in 1999. Computers, the Internet and smartphones have impacted nearly every aspect of day-to-day life, not to mention most businesses have had to adapt and change to take advantage of these new opportunities.
What hasn't changed here at 4x4AT is our dedication to providing our customers with the best in 4×4 accessory products, customer service, knowledgable and helpful members of staff who are happy to help you customise your 4×4 vehicle in the best way possible.