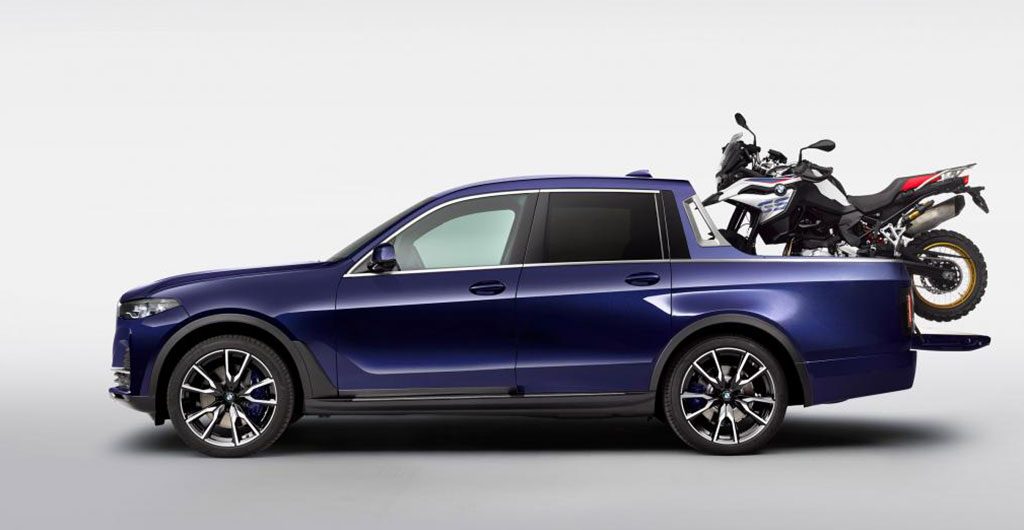 Last month we posted about Skoda's Mountiaq, a one-off concept car designed and built by a team of apprentices from Skoda's academy. However, it seems they aren't the only ones wanting to show off their students' work as this week BMW unveiled their very own student-designed BMW pick-up truck concept.
The vehicle in question is a pick-up variant of BMW's flagship SUV, the X7. The concept vehicle was built over the course of ten months by a team of twelve apprentices, who outfitted it with adjustable suspension and a custom load bed, suitable for transporting the BMW F 850 GS Touring Motorcycle.
The students took an X7 development mule that was destined for the scrap heap and removed its rear cabin, replacing it with a handmade, teak and carbon fibre lined load bed, complete with 3D-printed trim strips, bespoke grab-handles and motorcycle tie-down points.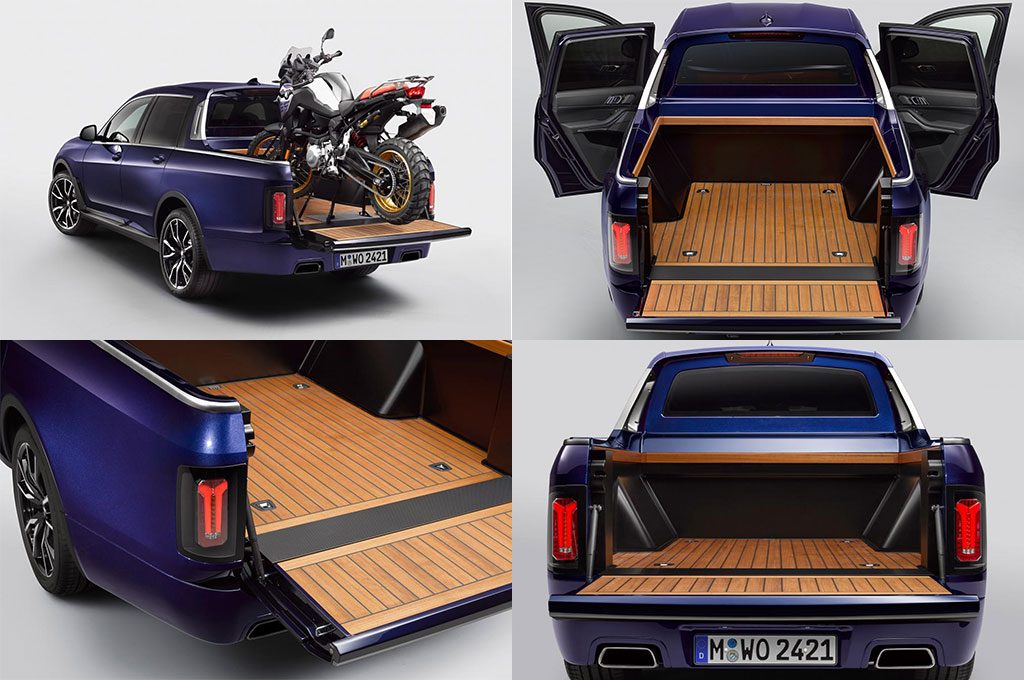 It is powered by BMW's 3.0-litre turbocharged straight six petrol engine that produces 335bhp and 450Nm of torque. This is then fed to all four wheels via an eight-speed automatic gearbox. The fact that the X7 pick-up also has lost over 200kg in weight thanks to the loss of the rear panelling it is also faster to 60mph than its SUV counterpart.
Despite the concept being fully functional and completely road-legal, BMW has no plans to put the X7 pick-up truck into production.
The X7 pick-up isn't the first time that BMW have dabbled into the pick-up market, in fact there have been two other BMW pick-up concepts. The first of which was the E30 M3 Pickup which was built back in 1986 and based on the 3 Series Convertible.
The 'Italian M3' initially had a 2.0-litre engine pushing out 192 horsepower, but later on it made the switch to the original 2.3-litre unit with 200 hp. It was used by BMW at the factory for more than 26 years before being retired in 2012.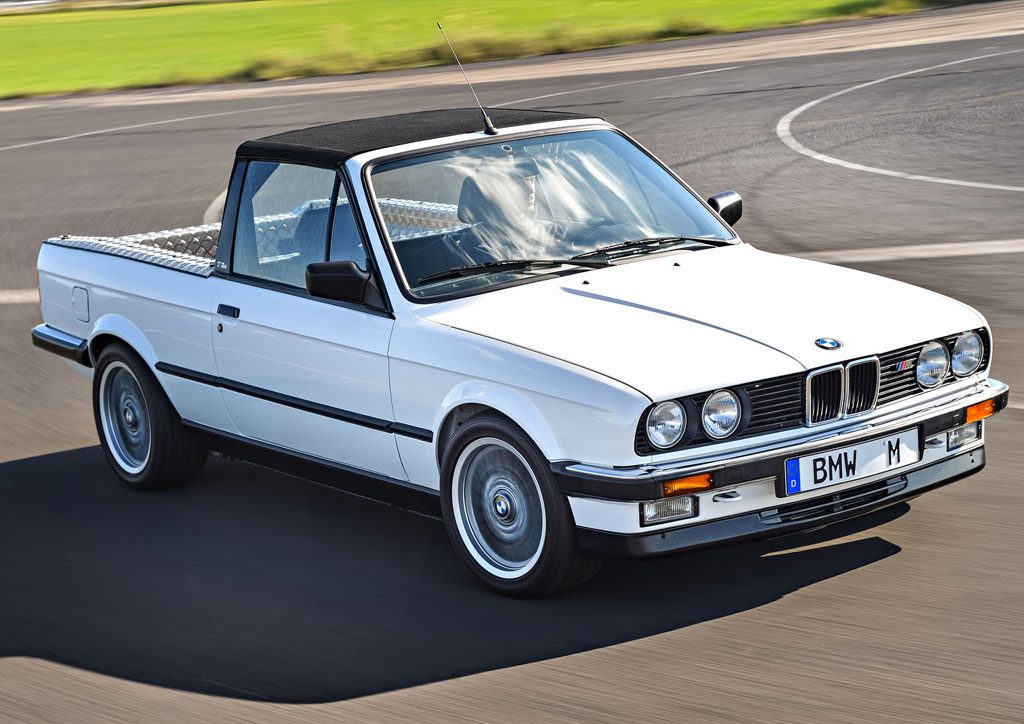 The second vehicle was part of BMW's 2011 April Fools prank in which they announced a concept pick up truck version of the E92 M3. Initially developed to replace the aging E30 M3 pickup mentioned above the E92 was based on the regular 3 series convertible but was given a complete overhaul by BMW's M division.
Originally BMW wanted to keep work on the vehicle under the radar, but their marketing department had a brilliant idea to 'introduce' the car/pickup truck concept on April 1st. They even went as far as describing it as a 'fourth body variant' in their press release to really try and fool people.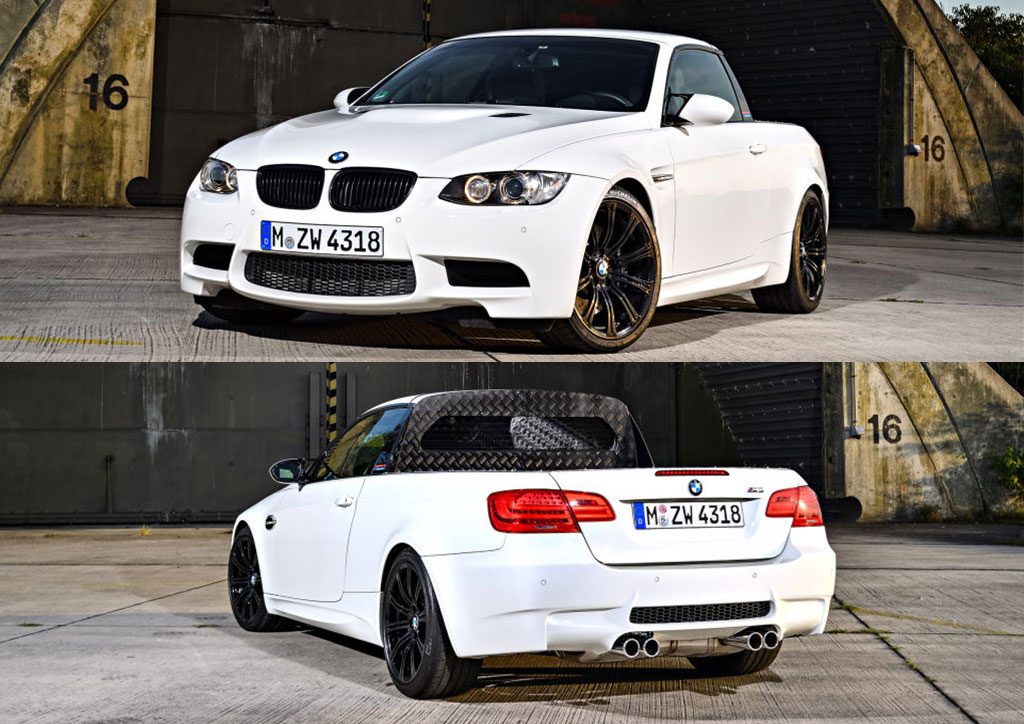 If you want to some more cool looking pickup truck concepts, then make sure you don't miss seeing Project P – the Honda Civic Pickup and, of course, the more recent Truckla – the Tesla Model 3-based Pickup.
Here at 4x4AT we sell a wide variety of accessories for all makes and models of cars, vans and pick-up trucks, including BMW, so if you are in the market for some vehicle accessories make sure to head over to our website!