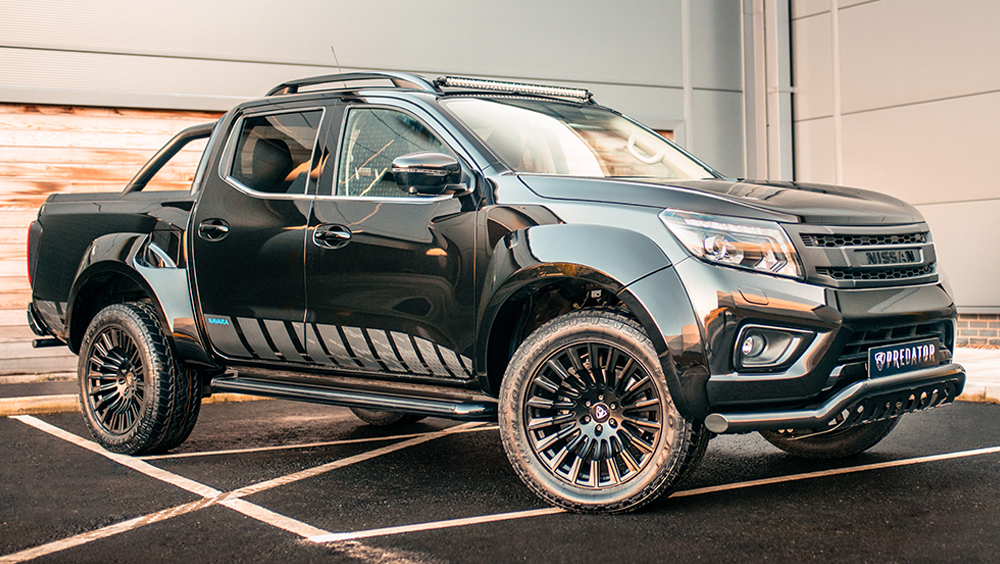 Make your Navara stand out wherever you go with 4x4AT's premium upgrades and accessories, all tailor-made for the NP300 in bespoke style. Our superb range combines high grade materials, unique design and long-lasting durability to totally transform your Navara into a beast … on or off road!
Let's take a look at this awesome fit out from front to back …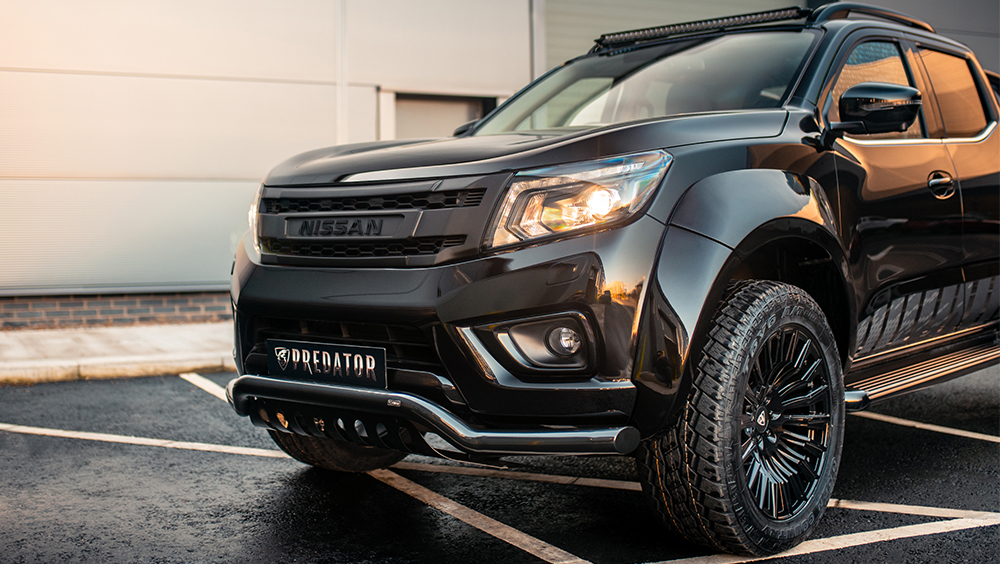 The Predator styling brand is exclusive to 4x4AT, showcasing innovative upgrades and cutting-edge design such as this 'Scorpion' ABS grille in gloss black. Featuring an oversized Nissan logo and super bright LEDs – your Navara will certainly get noticed.
Protection and rugged style are the buzz words here – prevent impacts and debris damage to the front and under carriage of your Navara with this black powder coated tubular steel spoiler bar and axle plate. It looks the business, and enhances front end protection.
See more and go further with an impressive Predator LED roof light bar, made to fit the Nissan Navara for superior illumination – when it really matters. With optimised optics for the most effective short- and long-range beam patterns, high quality Deutsch connectors and long-life LED bulbs, a roof light bar is a versatile enhancement for off-road journeys.
Ramp up the attitude and road clearance with a set of our Predator ultra-wide wheel arches, which are available for the Navara with or without an AdBlue filler flap. These add an extra 150mm/6" tyre coverage and enable wider wheels and tyres to be fitted for the maximum effect and off-road handling – team these up (as shown here) with Predator alloys …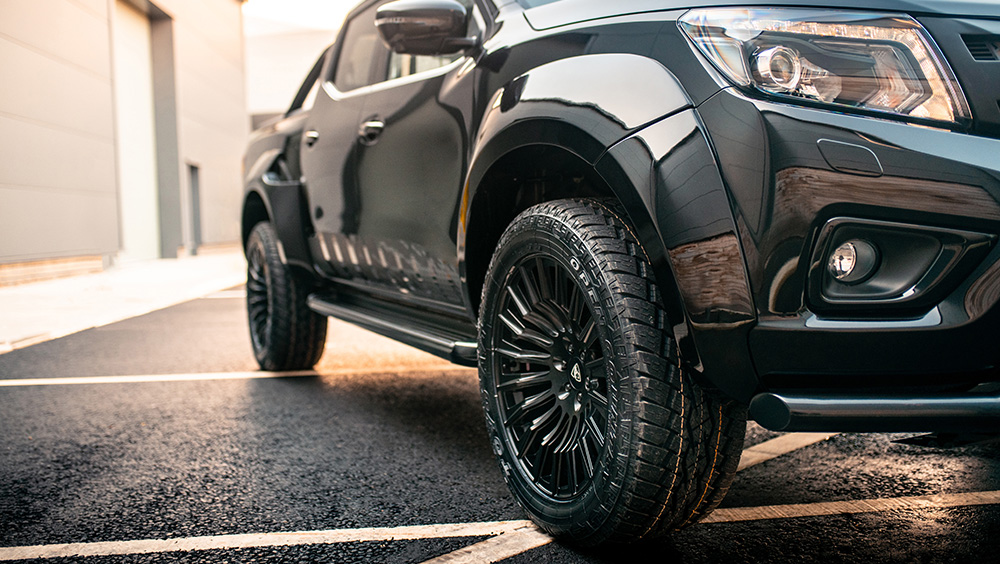 Our Predator Denali XD alloys are the ultimate upgrade for your Navara – aggressive off-road styling at its best. Not only do these deep gloss black concave multi spoke alloys look amazing, but they are tough enough to deal with any terrain due to high quality engineering processes which make a strong and durable wheel … these alloys give your pickup knock-out looks plus improved grip and traction on all surfaces.
For great performance on tarmac and beyond, these all terrain tyres have been designed with a rigid asymmetric tread pattern and strengthened sidewalls, which also means they look bold and robust too. Recommended partners for our Predator alloys for vehicles which need to go everywhere.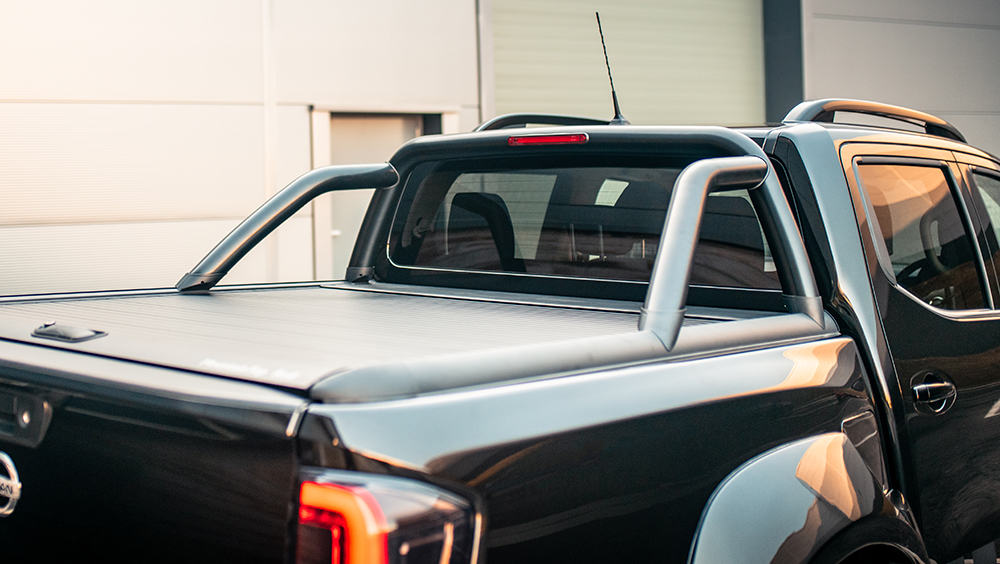 Mountain Top's roller shutter tonneau covers are made to last, with classic pickup style and excellent build quality. Keep your cargo and load bed area secure and protected with resilient yet lightweight aluminium slats, for great access from three sides and multiple lock positions. A perennial best-seller due to its great functionality and streamlined appearance.
Pair this black sports roll bar with the Mountain Top roller shutter for the most versatile load bed system. Can be retro fitted and requires no drilling – or let us install them both onto your Navara at our dedicated professional workshops.
Finish off this spectacular transformation on a high note with a pair of attractive and unusual Predator tail lights made using high powered LEDs – with sequential indicators, an integrated fog light function and quality electronics. These will catch everyone's eyes!
Shop online now for fast home delivery here or drop us a message to book in for professional fitting service at one of our fully equipped pickup specialist workshops.