We very rarely if ever feature Audi's on this blog, it's not that we don't think they are great cars, but more that Audi isn't very well known for their large off-road vehicles. They do have their 'Q' line of vehicles such as the Q7 & Q8 but they aren't really 'true' off-roaders. So when Audi's Electric 4×4 Concept Vehicle was unveiled at the Frankfurt Motor Show we were quite intrigued as we do like to check out the latest in both 4×4 concept and electric vehicles.
Before we get into the details of the vehicle it is important to remember that this vehicle is just a concept and may never actually make it to production. But with the Volkswagen Group quite often putting their concept cars into production such as with the VW ID.3, it's not too farfetched in assuming Audi may actually put a vehicle similar to this into production in the future.
The AI:Trial is the fourth vehicle to be showcased by Audi in their 'AI' range of vehicles each of which showcasing Audi's vision of the future of road transport. The "Trail" part of the name is supposed to evoke the idea of exploring nature. That is why there are no big screens onboard for streaming TV series or videoconferencing; instead, broad glass surfaces provide a clear view of the surroundings.
Marc Lichte who is Audi's Head Of Design detailed how Audi expect people to use the Trail;
"With the AI:Trail, we are showing an off-road concept with an emissions-free electric drive for an innovative driving experience away from paved roads. Consistent with this, we designed a monolithic basic vehicle body with maximum glazing to create an intense connection to the surroundings. A concept for sustainable mobility on demand."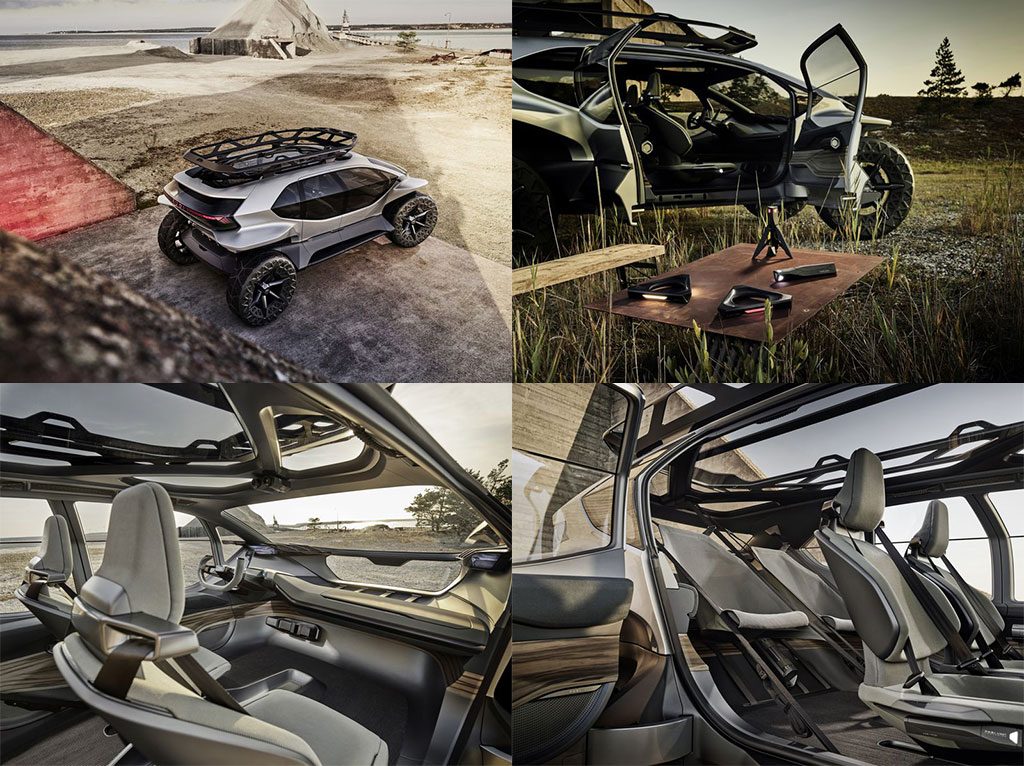 The most striking thing to observe about the Trail is its headlights, or should I say the lack of head lights. In fact the AI:Trail does not use conventional headlights, but rather an array of drones that will light the path in front of the vehicle. Yes you read correctly, drones.
"Instead of conventional low beams and high beams, the Audi AI:TRAIL is equipped with a total of five rotorless, triangular, electrically operated drones with integrated matrix LED elements. They are capable of landing on a roof rack or directly on the roof of the vehicle, and docking onto the inductive charging elements.
The flying objects are Audi Light Pathfinders, which generate their lift in the same way as bladeless fans produce their air flow. Thanks to their markedly lightweight design, they can fly ahead of the AI:TRAIL, consuming comparably little energy in the process, and illuminate the path ahead, thereby replacing headlights entirely. If desired, the on-board cameras generate a video image that can be transmitted to the display in front of the driver via Wi-Fi, turning the Pathfinders into eyes in the sky."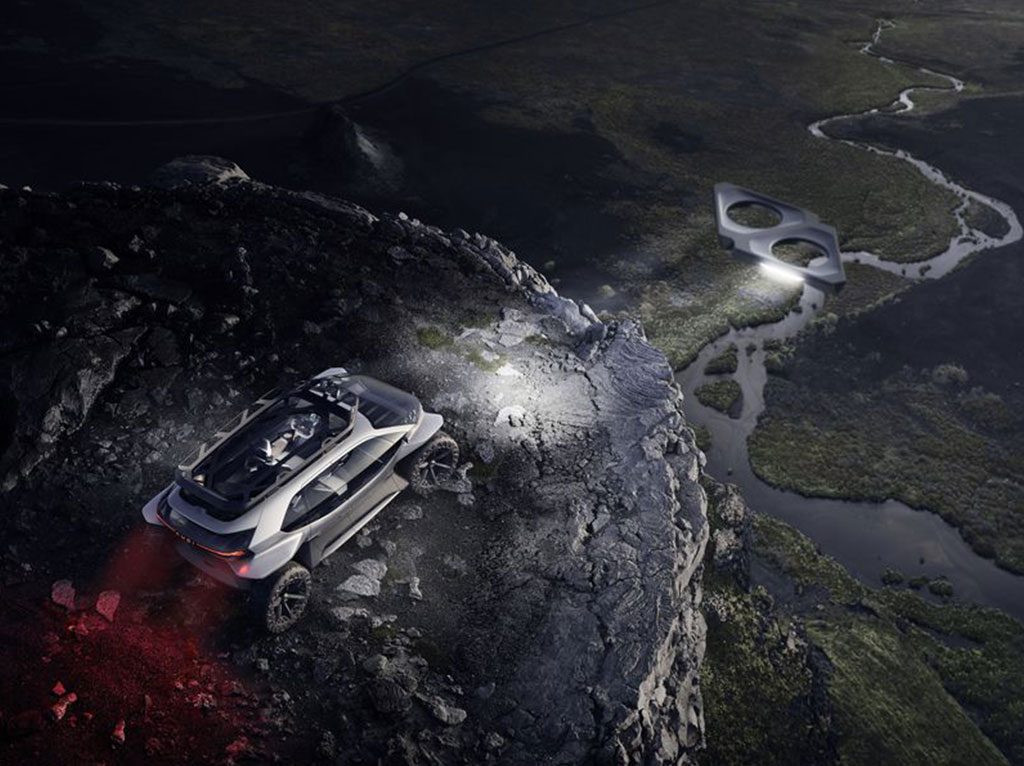 That's right, drones will fly ahead of the vehicle and light up its path. We aren't to sure on whether this is a very practical idea but it sure is pretty cool. But what do you think of Audi's Electric 4×4 Concept? Make sure to let us know your thoughts on our social media channels!