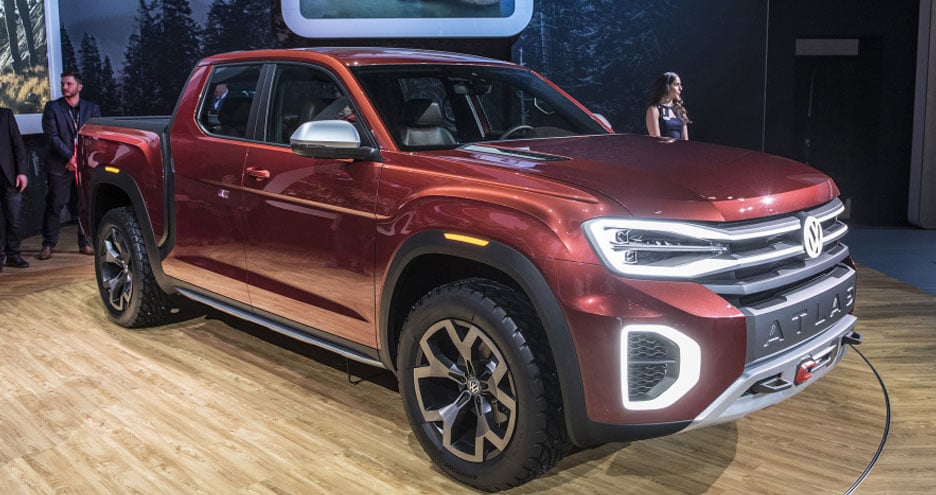 The new concept mid-size pickup truck from Volkswagen: the Atlas Tanoak concept made a surprise debut at the 2018 New York International Auto Show. VW intends to muscle its way into the lucrative North American full-sized pick-up market against strong competition that includes the ubiquitous Ford F-150.
"We're not saying this is a model we will definitely bring to showrooms. Rather, we're airing our ideas of how a future Volkswagen pick-up could look like. In the US, you need to be in the truck market to generate proper volume. With a positive reaction from potential customers, the Tanoak could take us there," says VW design boss Klaus Bischoff.
It measures 214.1 inches in length, making it roughly 3.0 inches longer than the recently revealed Ford Ranger and almost 16 inches longer than the Atlas, so it's definitely big for a mid-size truck.
A unique feature of the concept is a rail that is mounted on the pickup bed. Normally, the rail is fixed by the back of the cab, but on the Atlas Tanoak, it can slide the length of the bed and thus doubles as a carrier for things like canoes and ladders.
Power comes from the familiar 3.6-litre V-6 fitted to the Atlas. The narrow unit is good for 276 horsepower and 266 pound-feet of torque, and in the Atlas Tanoak, it's hooked up with an 8-speed auto and all-wheel drive. VW says the 0-60 mph sprint takes 8.5 seconds.
Inside, you'll find all the latest VW goodies like a 12.3-inch screen serving as the instrument cluster, as well as a 10.1-inch touchscreen with proximity sensors and gesture control serving as the infotainment hub. The concept also features sporty, contoured seats for all five passengers.
If the demand for this concept is high it could easily replace the Amarok. To see our range of Amarok accessories please follow this link.